The latest edition of the NED Innovation Awards, an annual contest run by media channel New Equipment Digest, offered a shortlist of devices likely to be of interest to the electronics testing equipment community — some of which they may have first heard about right here on Electronics360.
NED's Controls and Instruments category winner was the Fluke FEV100 EV charging station test adapter, which simulates the presence of an electric vehicle (EV) and allows EV supply equipment (EVSE) to be tested without requiring technicians to drive an EV. Fluke Networks also scored finalist honors with the industrial Ethernet (IE) model of its LinkIQ cable and network tester, which is based on a single-test approach that automatically provides appropriate measurements based on what's at the other end of the cable (or length and pairing for an open cable); and its FiberLert Live Fiber Detector, a pocket-sized device that detects near-infrared wavelengths used in fiber optic communications.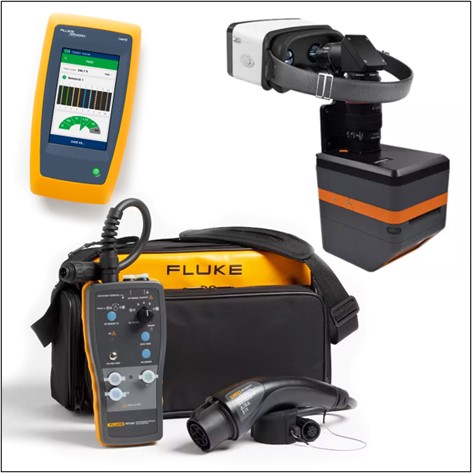 Among the devices highlighted by the 2022 NED Innovation Awards were products the electronics testing community might have first heard about on Electronics360. Sources: Fluke Networks, Radiant Vision SystemsAlso appearing on the Controls and Instruments finalist list was the XRE Lens from Radiant Vision Systems, highlighted by Electronics360 shortly after its introduction for an electronic focus capability poised to be a "game changer" for extended reality display testing. In a press release announcing the NED award, Radiant's CEO Doug Kreysar said the company was "honored by this recognition of our continuing innovation in the arena of display metrology" and noted that "the XRE lens is the latest in our long line of specialized optical measurement systems."
Rounding out the category finalist list was Honeywell's Experion PKS Highly Integrated Virtual Environment (HIVE), designed to unchain controls from physical equipment, and the NOR 848B Hextile Acoustic Camera from Scantek Inc., a beam-forming array that enables users to visualize sound sources at different frequencies and source strengths.
The NED contest changed its format this past year: Instead of making its own editorial selections, it turned to its audience of experts in the field to select their picks for products representing the best examples of innovation and having the most potential for practical implementation. Electronics360 similarly encourages readers to offer their input on new products and techniques, whether by adding comments to articles or engaging in discussions on the GlobalSpec's CR4 community.