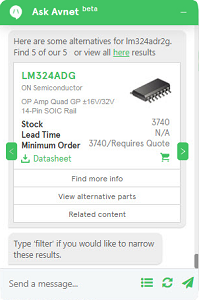 An example of Ask Avnet. Image credit: Avnet
Avnet Inc. has officially launched its Ask Avnet platform, a digital resource that integrates artificial intelligence and industry experience on-demand to help engineers, makers and procurement specialists find insight and information for future tech products.
The Ask Avnet automated assistant gathers information quickly, navigating users across Avnet's web-based ecosystem, including Avnet.com, element14.com and Hackster.io. The distributor plans to expand the platform to include MakerSource.io and PremierFarnell.com in the coming months.
Using AI, the goal is to provide makers and others with the best answer to their questions, rather than a list of all possible answers. Avnet says one of the advantages of this AI technology is that it "learns" and improves in time. Each time it is used, it creates information by which the tool improves itself.
The platform is aimed at reducing the amount of time it takes Avnet customers to access information, thus increasing the number of projects delivered on time. Initially, customers will interact with the automated assistants for fast answers but customers can also ask to be connected to an Avnet expert.
Ask Avnet is now available for beta testing for customers at http://avnet.me/AskAvnet.