California-based NEXTracker, a Flex company, has launched an intelligent, self-adjusting tracker control system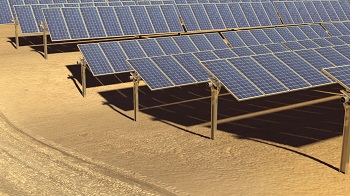 Image credit: NEXTracker for solar power plants called TrueCapture. The system continuously refines the tracking algorithm of each individual solar array in response to existing site and weather conditions. TrueCapture typically delivers energy gains of 2 percent to-6 percent, enabling system owners and developers to maximize solar system performance.
TrueCapture is designed to address the energy production losses solar power plants typically suffer from construction variability, terrain undulation and changing weather. The solution applies forecast-based tracking behavior algorithms for clouds, fog or haze and row-to-row hybrid closed-loop self-learning that course-corrects the panel direction, minimizing production loss due to shading and clouds.
Wireless self-powered controllers on the tracker sync with the smart panels and the NEXTracker supervisory control and data acquisition system, connected through Flex's IoT platform, a secure, NERC-CIP-compliant, industrial-strength connected intelligence platform. From the Flex IoT platform, communication is continually dispatched to control each independent row.