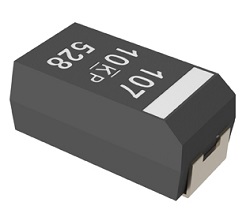 The 35V T598 capacitor. Image credit: KEMET
KEMET has expanded its T598 portfolio of polymer electrolytic capacitors with a new 35V device that is AEC-Q200 qualified for automotive applications.
The T598 device features capacitance values of 22 and 33 microfarads and offers an ultra-low equivalent series resistance (ESR), which minimizes energy losses and capacitor self-heating. This allows the device to handle large ripple currents without excessive thermal stress. The polymer capacitor's ESR has a low temperature coefficient for stable performance from negative 55° C to 125° C.
The capacitor has a long operational life and is well suited for use in challenging environmental conditions such as high humidity and high temperature typical of automotive applications.