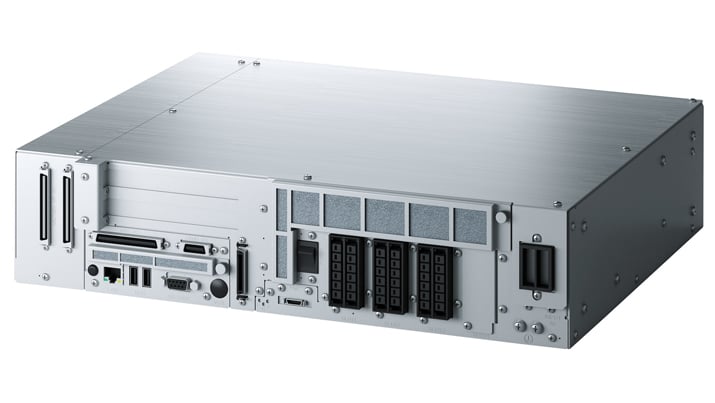 Image credit: PRNewsfoto/DENSO Products and Services Ame
A new controller from DENSO Robotics enables users to create virtual fences around a robot, adding a measure of safety for collaborative human/robot environments.
The RC8A's Safety Motion function uses two optical sensors to detect an approaching operator and to control the speed of the robot accordingly. The sensors create virtual safe zones that trigger an incremental reduction in the robot's speed, depending on operator distance. When the operator leaves the area, the robot automatically returns to normal-speed function, minimizing work stoppage time.
According to DENSO, the device is the world's smallest industrial robot controller in the 3-kW output class. Measuring 12.5 x 14 x 3.69 inches and weighing 10 kg, its compact size can save valuable factory floor space and facilitate integration. An MS Windows-based GUI reduces robot setup time, and ISO/UL safety compliance allows for global deployment. DENSO's Wincaps III 3-D simulation software allows offline programming and remote operations monitoring.
The ORiN open-resource interface networking system also allows the RC8A to communicate with more than 100 different types of devices.
More specs:
Standard interfaces: 100 Base-T Ethernet, mini/hand I/O, RS-232C, USB
Optional interfaces: CC-Link, DeviceNet, EtherCAT, EtherNet/IP, parallel discrete I/O, Profibus, Profinet
Optional accessories include: teaching pendant w/7.5-inch color touchscreen, mini pendant w/128 x 64 pixel LCD display, up to two additional axes and conveyor tracking
A 64-page catalog is also available, containing information and technical specs for DENSO's complete line of robots, robot controllers and software.