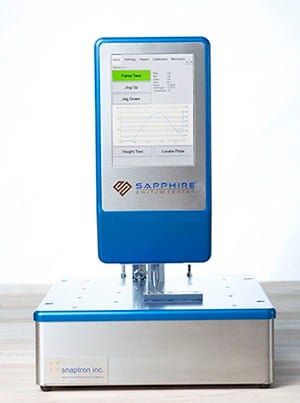 Image credit: Snaptron Inc.
Snaptron Inc. (Windsor, CO) has released the Sapphire switch force displacement test station designed for accurate, repeatable force and displacement measurements of various types of tactile switches and switch assemblies. The stand-alone unit tests and displays precise measurement data on an liquid crystal display (LCD) touch-screen display, and full measurement reports can be uploaded to a company network or a USB drive.
The equipment is used to test metal domes, poly domes, membrane switches and most other switches, and follows ASTM standard F2592. Tests include trip force, return force, standing free height, displacement (travel), tactile ratio, tactile activation slope, switch resistance and other ASTM measurements. It can detect two separate electrical contacts and can be used to characterize resistive touch screens.