C&K Components has released a new micro-miniature tactile switch series designed to meet the space constraints of wearable electronics, keyless entry systems, and other portable wireless devices. The PTS830 series surface-mount (SMT), top-actuated switches feature a footprint of just 3.5 mm x 2.6 mm and an ultra-low profile of 1.4 mm.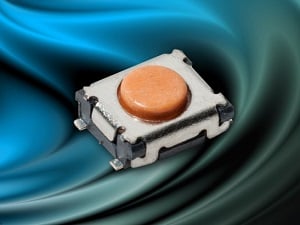 C&K Components says its PTS830 Series SMT top-actuated switches were designed specifically to meet the needs of miniature portable wireless devices. Image source: C&K Components
The new switch series comes in 160 gf and 450 gf actuation force levels and with operating lives of 500,000 and 200,000 cycles, respectively. The higher operating force option helps prevent accidental actuation — a significant risk in wearable and pocketable devices.
PTS830 series switches are momentary-action devices, with a single-pole single-throw (SPST), normally-open configuration. Rated for 12 VDC and 50 mA, the switches operate over the -40° C to +85° C temperature range. Travel distance for the devices is 0.15 mm ±0.1 mm, with a typical bounce time of 10 ms or less. Contact resistance is 100 mΩ or less.