Many products put a premium on physical space, but perhaps none more so than wearable devices (including health trackers) and smartphones. Potential exposure to rain, sweat, dust and dirt adds yet more challenges for components seeking "design-in" for these demanding product categories.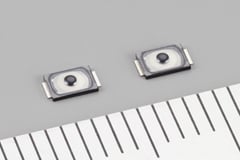 Tiny Tactile Switch Targets Mobile and Wearable Devices
Taking aim at these often conflicting requirements, Alps Electric debuts a tactile switch combining small size with high dust and water resistance. In a package measuring 3 x 2 mm—with 0.6 mm height—the company's SKSWD Series TACT Switch carries an ingress protection rating of IP68, which Alps positions as a step above the IP67 ratings, typical of many comparably-sized alternatives.
Featuring a 300,000-cycle operating life, the SKSWD Series switches up to 50 mA current in up to 12 V DC circuits, while presenting a maximum contact resistance of 500 mΩ. Other specifications include an operating force of 2.4 N and switch travel of 0.13 mm.
Alps chose to use a projection structure for the metal contact. According to the company, this enables stable operation of the switch even when it is pressed from the edge or diagonally. It also prevents differences in feel caused by position variations during installation. The "inner projection" type of projection structure used in this switch series increases projection strength, it says, for improved durability.