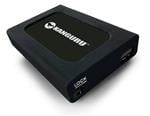 The UltraLock HDD. Image credit: Kanguru
Kanguru has introduced a new series of external hard disk drives (HDDs) and solid state drives (SSDs) that are pocket-sized with a physical write protection switch.
The Ultralock series features USB 3.0 connectivity, capacities up to 4TB, TAA compliance and housed in a compact aluminum case.
The physical read/write switch can be used on any public computer anywhere without the risk of contracting a virus, malware or overwriting important files. Kanguru says the drive is good for governments, travelers and students that frequently visit public locations with sensitive information.
Write protecting a drive protects files stored within from corruption, infection, unauthorized changes and accidental deletion from any computer. Software write-protection tools enable write protection by making changes to the operating system registry. The Ultralock's write protection disables write capability at the hardware level, making it impervious to malware attacks, Kanguru says.