Micron Technology Inc. (Boise, Idaho) has introduced a solid-state drive (SSD) family for client equipment applications, the M600 SATA, which extends the range of available form factors and memory capacities up to 1-terabyte.
Intended applications for the drive include workstation and desktop PCs down to ultrathin notebooks and PC-tablets as well as video capture, edit and playback systems. The M600 is meets the serial AT attachment (SATA) interface standard with a 6Gbit per second bus and can perform sequential writes and reads at greater than 500Mbytes per second.
The storage is designed to make use of the 16nm 128Gbit NAND flash memory chip that is produced by Micron and comes in capacities of 128Gbyte, 256Gbyte, 512Gbyte and 1Tbyte. The range has an expanded portfolio of form factors for the thin and light computing space including the mSATA, M.2 2280ss and 2260ds single-sided and double-sided format and the 2.5-inch, 7mm-deep format.
Dynamic Write Acceleration
Amongst key improvements for the M600 range – which follows on from the M5XX range – is a feature called dynamic write acceleration, which is used to speed writing to the disk and has the by-product of extending endurance.
Dynamic write acceleration makes use of the ability to change the method of programming Micron's 128Gbit NAND flash memory ICs. It switches between 2-bit multi-level cell (MLC) or single-level cell with a quarter of the capacity on-the- fly, creating a cache that is sized according to drive demands. This reduces power use and improves write performance as much as 2.8 times over non-cached systems.
At "write-time" the memory being written to is used in SLC mode as this is a quicker programming algorithm. Once the data is stored it is re-assigned to memory in MLC mode to make use of the full density of storage, explained Jon Tanguy, senior technical marketing engineer with Micron. The endurance advantage manifests itself as the ability to offer between 100 and 400 terabytes of written for M600 SSDs compared with 72 terabytes written across the same storage sizes for the M5XX range. The top end 400TB endurance is equivalent to writing 220GB a day, every day, for five years.
Moving down to Micron's most advanced planar NAND flash memory also nearly halves power consumption. The active consumption is quoted as an average of less than 80mW across the M600 family compared with less than 150mW across the M5XX range. In sleep mode consumption drops to 2 or 3mW on M600 compared with 5mW on M500.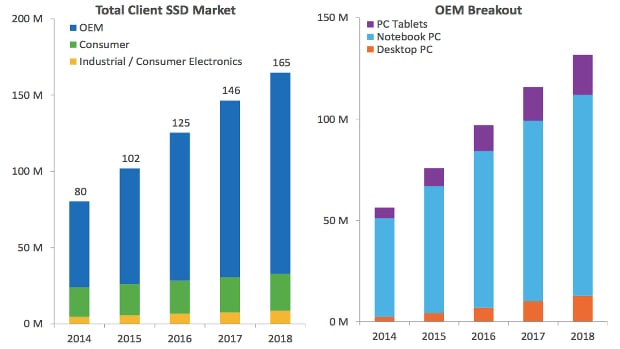 How client SSD market will be driven by PC OEMs. Source: Micron.
Typical laptop magntic hard drives require more power when idle (130mW) and 20 times as much power while they spin their platters to access data during active use; as much as 1.4 to 2W, Micron said. "We believe that SSDs have hit a cross-over point. They are better than magnetics for a number of reasons," said Tanguy.
To round out the features of M600 it is equipped with self-encryption technology, including an AES-256-bit hardware encryption engine that complies with the Trusted Computing Group Opal 2.0 standards and the Microsoft eDrive protocol, making it easy to enable using management tools or within Windows 8.
Most of the features of the SSD are dependent on the memory controller IC, which is provided to Micron by Marvell Technology Group Ltd. (Santa Clara, Calif.). Micron plans to use 3D NAND chips into its SSD storage products but declined to say when this would happen.
Related links and articles:
IHS compute, servers and storage services
Related links and articles:
AMD Enters SSD Market Targeting Gamers
SanDisk Grabs Fusion-io in Billion-Dollar Storage Deal
Seagate Buys LSI Flash Businesses from Avago
Micron Samples 16nm NAND Flash Chips
SSD Market Scores Big in Q1, Especially in Ultrabooks and PC Tablets