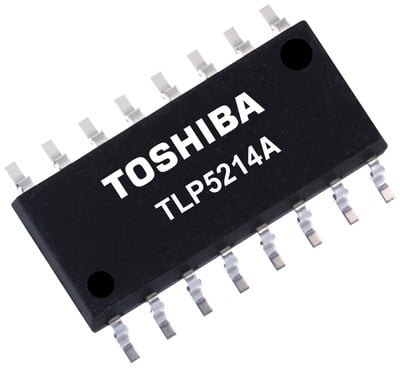 Toshiba's new smart gate driver photocouplers are housed in a wide creepage SO16L package. Image credit: Toshiba
Toshiba America Electronic Components, Inc. (TAEC) has introduced a new 4.0A output current smart gate driver photocoupler. It is designed for use in driving medium-power IGBTs and power MOSFETs, the TLP5214A improves upon desaturation sensing characteristics of the current offerings. The TLP5214A contributes to safer operation by suppressing short-time pulse noise during switching and desaturation sensing.
Toshiba's TLP5214A comes in a wide creepage distance SO16L package. It incorporates smart features like desaturation leading edge blanking time, desaturation filter time and optimization of soft turn-off performance. The TLP5214A brings high-current, high-speed output control. It also provides output fault status feedback, which makes it suitable for applications like industrial inverters, solar energy inverters, servo amplifiers and air conditioner inverters. It contributes to a reduction of system costs and board space and improving overall power efficiency and reliability in these applications, according to Toshiba.
The TLP5214A is available now. To learn more about this product, visit the site here.