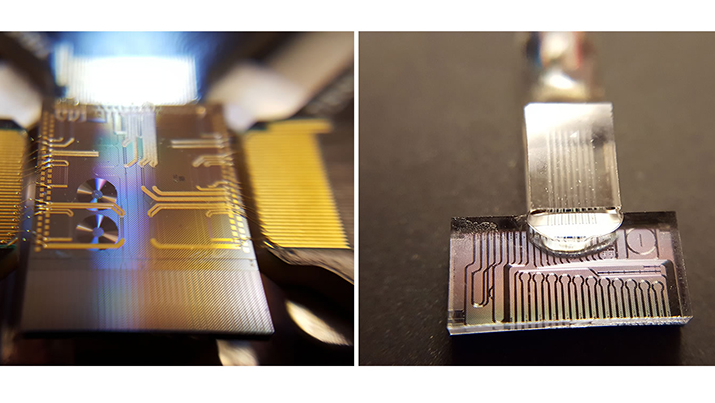 Photonic chips.On the right, the chip is connected to optical fiber, allowing quantum state manipulation with standard telecommunications components. (Credit: INRS University) Researchers at Institut National de la Recherche Scientifique (INRS) in Quebec City have achieved a disruptive breakthrough for photonic quantum information science – a lightweight system that makes use of the frequency domain properties of photons, created using on-chip devices and off-the-shelf telecommunications components.
As described in the journal Nature, the system uses a small photonic chip fabricated in much the same way as integrated electronics are made. Photons are emitted in pairs sharing a complex quantum state with an on-chip micro-ring resonator excited by a laser. The photons are constructed in a state with several superimposed frequencies, i.e., several colors simultaneously; the colors of each photon in a pair are linked, regardless of their separation distance.
Each color represents a dimension, which enables the photons to be generated as a high-dimensional quantum state, or quDit – as opposed to qubits, which are two-dimensional systems (e.g., 0 AND 1 at the same time, as opposed to the classical model of 0 OR 1 at any time). In the high-dimensional state, photons can be red AND yellow AND green AND blue simultaneously.
Research team leader Prof. Roberto Morandotti has confirmed the realization of a quantum system with at least 100 dimensions using this approach; the technology developed is readily extendable to create two-quDit systems with more than 9,000 dimensions.
Using the frequency domain in this manner enables easy transmission and manipulation in optical fiber systems. Since it is built using standard telecommunications elements, it is also highly accessible – allowing researchers around the world to incorporate and push the technology forward.
Whereas technology advances for the telecommunications sector have traditionally been targeted for the manipulation of classical signals, this research could be a game-changer. It could directly enable fundamental investigations of high-dimensional quantum state characteristics, applications in large-alphabet fiber-based quantum communications, and the future development of frequency-domain, high-dimensional quantum logic gates and other applications.