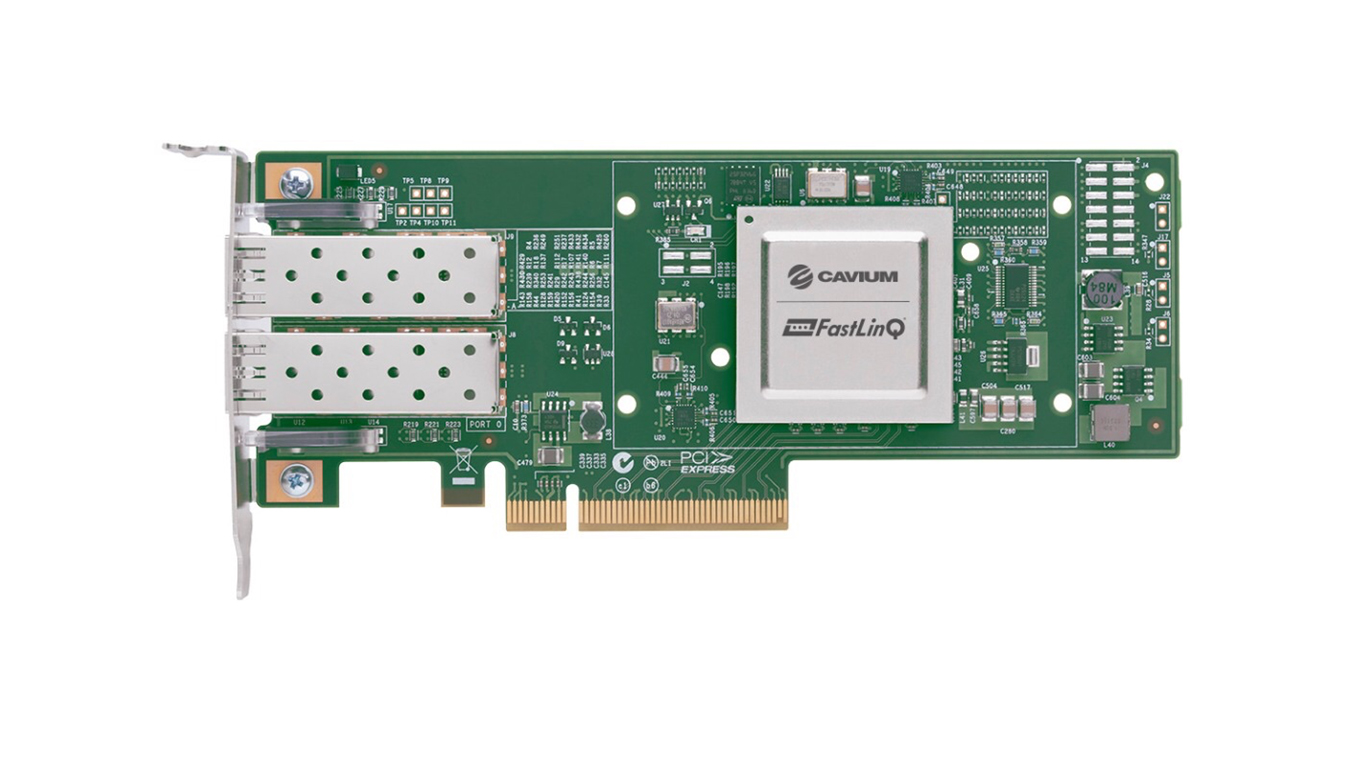 The New FastLinQ 4100 Series. Image credit: Cavium
Cavium Inc. announced the FastLinQ 41000 Series, its low power, second generation of 10/25/40/50 GbE NIC and the industry's only NIC adapter with Universal RDMA. Leveraging over a decade of networking technology expertise and industry leadership, the cost and power optimized FastLinQ 41000 Series delivers advanced networking for cloud and telco architectures. FastLinQ 41000 Series NICs are available immediately from Cavium and will be available from Tier-1 OEMs and ODMs worldwide in standard, mezzanine, LOM and OCP form factors.
Data centers are expanding at a rapid pace, just like the virtualization and container density for computing, driving the need for higher bandwidth between servers and switches. 25 GbE leverages the maximum potential of multi-core processors, NVMe flash storage and cloud architectures to deliver 2.5 times the performance, reducing the power and cost per gigabyte, according to Cavium. Enterprise and cloud data centers investing in 25GbE require a flexible and highly interoperable solution. This can be a challenge with the mix of pre-standard and standard-based 25 GbE products on the market. The recent Spurs in malware-led intrusion and data theft are driving private and public cloud networks to ensure that only trusted and validated software components get deployed. Enterprise and cloud data centers have differing requirements driven by infrastructure and application workloads for latency and congestion management, so the flexibility of the networking solution is important. According to Cavium, the FastLinQ 41000 Series family addresses these challenges while delivering a flexible and future-proof networking solution.
The FastLinQ QL41000 family is the second generation of standards-compliant 25/50 GbE NICs. According to Cavium, this NIC adapters family delivers customers the technology choice and investment protection with support for concurrent RoCE, RoCEv2 and Iwarp—Universal RDMA. The FastLinQ adapters coupled with the leading server and networking platforms enable enterprise data centers to optimize infrastructure costs and increase virtual machine density by leveraging built-in technologies like concurrent SR-IOV and NIC Partitioning (NPAR). Storage acceleration and offloads like NVMe-oF™, NVMe-Direct, iSCSI, iSER and FCoE built into the FastLineQ QL41000 enable upgrade paths from existing storage paradigms to next generation NVMe and persistent memory semantics.
To learn more about this product, visit the Cavium site here.