Jackson Hospital is now working with robots to keep people healthy. The Tru-D SmartUVC robot is a UV disinfection robot that kills up to 99.9 % of harmful germs and pathogens in health care environments, working to reduce the risk of infections from hospitals. This robot will be used mostly in the surgical areas. Jackson Hospital is a not-for-profit hospital in Montgomery and the Alabama River Region.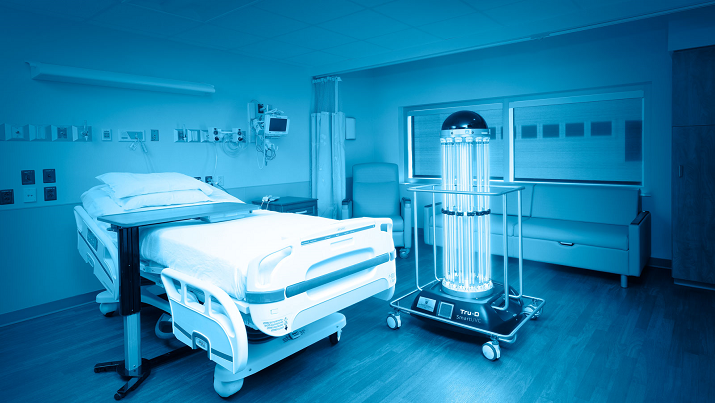 Tru-D the disinfecting robot (Tru-D)
The Tru-D uses chemical-free UVC light energy to eliminate hard-to-kill germs and superbugs, including MRSA, Ebola and other types. Before Tru-D starts its job, the room it will be operating in must be cleaned with traditional methods. Then the robot can enter and start administering a single cycle of UV energy. This provides total room disinfections.
Tru-D uses patented Sensor 306 technology, which allows it to compensate for different variables in the room, like size shape and contents in order to deliver the correct dose of UVC energy that is lethal to dangerous infections. The robot's method of calculated, measured UV dosage allows it to disinfect in direct and shadowed areas. It eliminates the chance of human error during the disinfection process, pretty much guaranteeing the chance of infection to be very low. After it finishes its disinfection cycle, Tru-D alerts the operator via text and/or audio message that it has completed its cycle and the room has been disinfected.
Tru-D is operated via remote control from outside of the room it is disinfecting. When it is done disinfecting, the robot automatically uploads complete documentation of the disinfection process to the MyTru-D-portal. This allows administrators to track the usage, as well as specific pathogen data, UV dose delivery, room number, operator and cycle times. The real time reports assure users that the room has been properly disinfected. This robot could completely upgrade the surgical process.
To learn more about Tru-D, visit the site here.