Unsurprisingly, the COVID-19 pandemic has impacted and disrupted virtually every industry imaginable. Now, solutions to the virus' impact on assorted industries are on full display at this year's CES.
Conducted virtually for the first time in the electronics tradeshow's history due to the pandemic, CES 2021 has debuted a number of technological innovations designed to keep people safe from contracting the virus.
Following are just a few examples of those technological solutions on display this year that aim to fight the virus responsible for worldwide social distancing, shutdowns, illnesses and causalities.
Smartphone sanitizing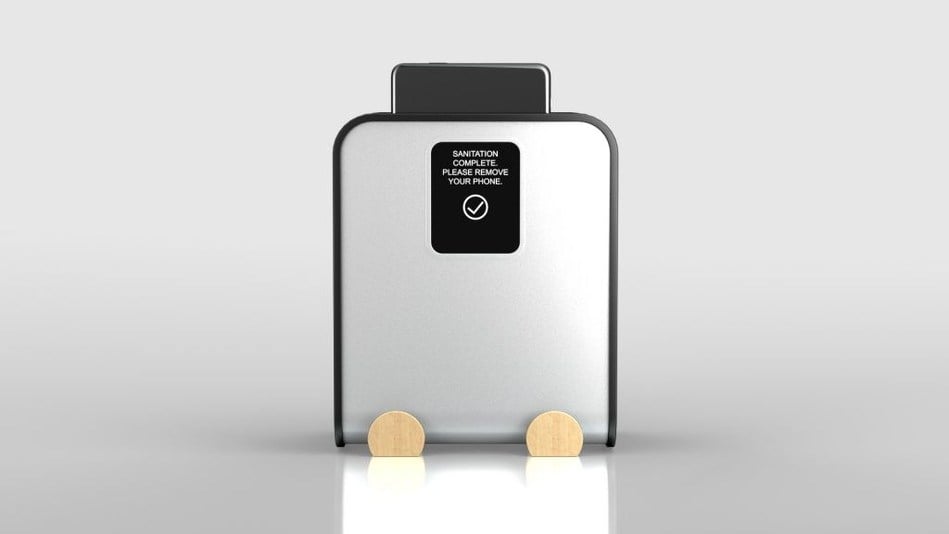 Source: Glissner
Largely considered a hot-bed of germ and bacteria activity, smartphones are arguably among the dirtiest objects that humans come into contact with each day. Amid the COVID-19 pandemic, Canadian tech company Glissner sought to develop a solution for eliminating bacteria and viruses collecting on smartphones and has now introduced its CleanPhone technology at CES 2021.
As its name suggests, the CleanPhone is a touchless smartphone sanitizer that uses ultraviolet (UV-C) light technology to eliminate 99.99% of germs on smartphones in just 20 seconds.
Masks
Since the start of the pandemic, masks and other personal protective equipment (PPE) have been in demand for helping to prevent the spread of the virus transmitted via aerosol particles. Consequently, it should come as no surprise that two innovative smart masks have debuted at this year's CES.
The first, Project Hazel from gaming tech company Razer, is a transparent smart mask featuring 95 medical-grade respirator protection via active ventilators and smart pods for regulating airflow. The mask also reportedly demonstrates high bacterial filtration efficiency, promising to filter at least 85% of airborne particles, and it features a built-in microphone and amplifier to improve communications, which may be hindered by standard masks.
The second mask to make its debut at CES 2021 is from U.K.-based telecommunications company Binatone. Binatone's MaskFone features built-in wireless headphones and a microphone for improved communications. The wearer, according to Binatone, can safely take calls without removing the mask in public, which would leave the user potentially vulnerable to infection. According to the mask manufacturer, the MaskFone protects against bacteria, viruses and pollution.
Touchless and temperature-taking doorbells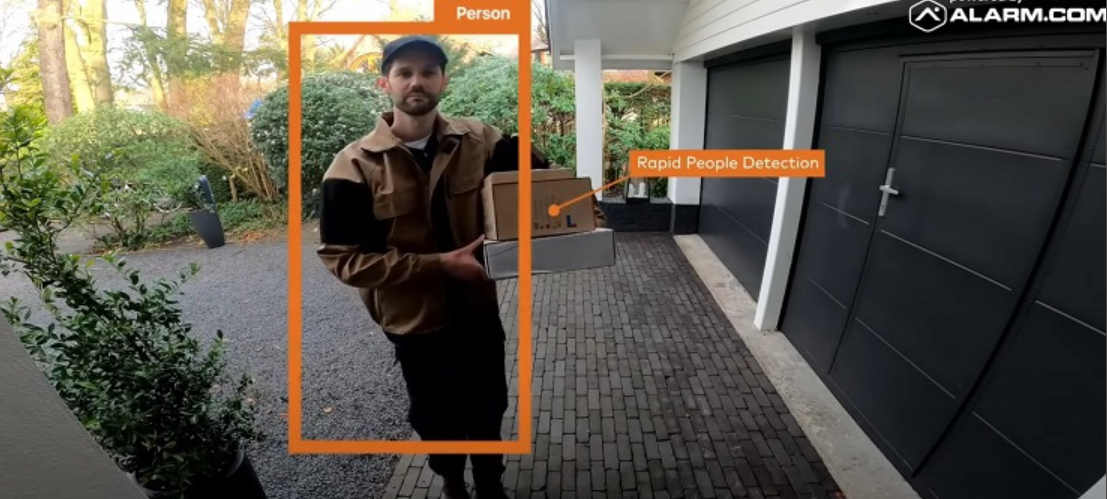 Source: Alarm.com
At CES 2021, Alarm.com debuted its Alarm.com Touchless Video Doorbell, which enables users such as delivery persons or visiting healthcare professionals to touchlessly ring a doorbell without contacting a high-traffic surface. The touch-free operation, designed to slow the spread of the COVID-19 virus, requires a visitor to stand on a connected door mat in the entranceway outside of the home. Rapid People Detection technology will trigger the connected door bell as well as send the homeowner a mobile alert that someone is outside. This then activates the live HD video and two-way audio to enable communication.
Tech company Plott also introduced its Ettie doorbell technology at this year's CES. The Ettie doorbell, however, differs from the touchless video doorbell in that it takes a person's temperature before granting entrance into the home. Additionally, the technology captures that person's image for contact tracing purposes and keeps a headcount of those entering and exiting the premises to establish capacity.
Disinfecting robots
Designed for sanitizing shared spaces such as offices, restaurants, retailers, transportation hubs and classrooms amid the COVID-19 pandemic, LG Electronics has introduced its autonomous disinfecting robot at CES 2021. The robot, according to LG, uses UV-C light to disinfect high-touch, high-traffic surfaces to prevent the spread of infection. Capable of moving around with ease, the robot can reportedly irradiate a room in 15 to 30 minutes.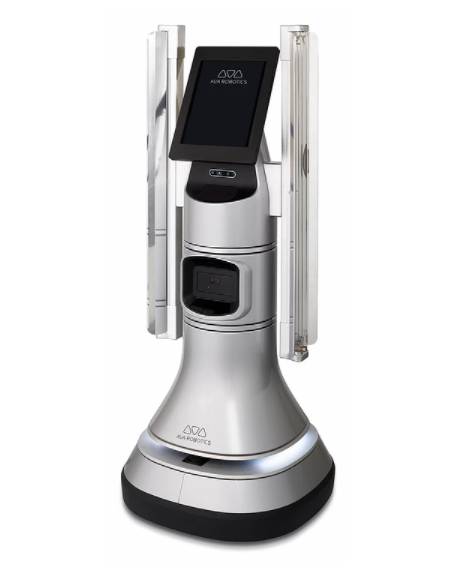 Source: Ava Electronics
Workforce solutions company Ava Electronics has also debuted its disinfection robot at this year's CES. Dubbed the Workplace UV Disinfection Robot, AVA Electronics designed the autonomous robot to disinfect both air and surfaces in work settings such as warehouses and offices. According to Ava Electronics, the disinfecting robot is 99% effective against COVID-19.
This is just a sampling of the COVID-19 associated technology debuting at CES 2021, which is taking place digitally January 11-14. Check back with Electronics360 for more CES 2021 coverage.