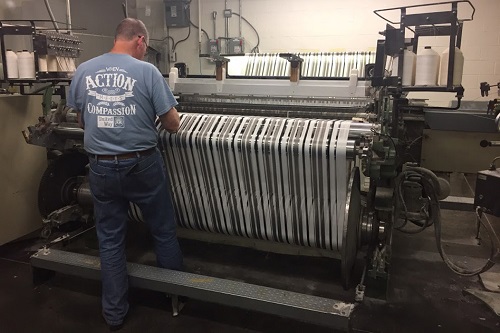 New Facility Opens for the Development of Smart Fabrics and e-TextilesAdvanced Functional Fabrics of America (AFFOA), a public-private partnership that is collaborating with MIT, has opened a high-tech fabrics facility to build new innovations in e-textiles for commercialized products.
The facility, located near MIT in Cambridge, Massachusetts, aims to foster new developments in fabric and fiber-based products. These include fabrics that see, hear, sense, communicate, store and convert energy, regulate temperature, monitor health and change color. AFFOA wants to create a new industry that envisions "fabrics as the new software," says Yoel Fink, CEO of AFFOA.
AFFOA was created last year with more than $300 million in funding from the U.S. and state governments as well as academic and corporate partners, including much of the fabric manufacturing base in the U.S. as well as startups.
AFFOA says that most attempts to merge electronic functions into fabrics have involved attaching various types of patches to existing fabrics. AFFOA wants to have these functions embedded within the fibers themselves.
The company has already introduced two products as a result of its smart fabric technology the first of which is a programmable backpack prototype produced by JanSport, an AFFOA member. The backpack allows the user to "program" their pack through a smartphone app to help students better connect on campuses, enable professionals to network effectively at conferences, increase access to security in elementary school, store memories and information and enable dynamic advertising and online purchases. It can also notify the user if the backpack gets lost.
"This product exemplifies a future where clothing and other fabric products will be seen no longer as commodity products but as a service, similar to the way software is developed and sold," Fink says.
The second products is a technology called Fabric LiFi, using light emitting diode (LED)-based lighting to broadcast data to any receiver within view at high bandwidths. The technology could be used to provide accurate tracking and navigation in indoor locations where GPS does not penetrate and where tracking can be helpful such as in hospitals, theaters, sports events and more. The technology also could be used for active safety clothing for cyclists to prevent night-time accidents.
The technology could be used to deliver digital content to users through this lighting link such as at a sporting event receiving detailed commentary in real time through a baseball cap or enabling soldiers and emergency responders to get data and images from a drone hovering overhead.
In order to get ideas to product faster, a national product-prototyping ecosystems called the Fabric Innovation Network (FIN) was assembled. This is made up of small, medium and large manufacturers and academic centers that have production capabilities allocated to AFFOA projects. This network helps decrease the time of market for product prototypes to a matter of weeks, AFFOA says.
The new facility, dubbed Fabric Discovery Center (FDC), was designed to support three main categories: A startup accelerator and incubator providing space, tools and guidance for new companies developing fabric-based products; a second devoted to education for hands-on opportunities for students; and an end-to-end prototyping facility using computer-assisted design and fabrication tools to bring fabric ideas from concept to functional products.
The company plans to form additional FDCs in other locations in the U.S. in order to sponsor startup competitions and to encourage new product ideas and business models from all over the country.