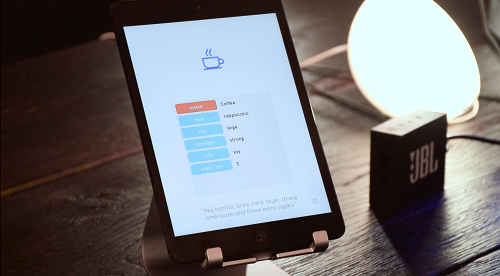 The voice AI works through on-device automated speech recognition that is turned into text and then interpreted by the AI assistant. (Source: Snips)Artificial Intelligence (AI) startup Snips has launched a voice platform that it touts as the first private-by-design voice AI that runs on-device and is not dependent upon the cloud.
The Snips Voice Platform, which already has 1,000 users signed up, can be run by many means of control, including the Raspberry Pi 3, meaning DIY enthusiasts and tinkerers can create their own voice-enabled devices.
"We see the Raspberry Pi as a great platform to prototype a voice product," Rand Hindi, CEO of Snips, tells Electronics360. "This is why we made our technology freely accessible for makers and prototyping. For companies who want to integrate Snips in another platform or in a commercial device, we have custom builds they can use."
Snips says the goal of the voice platform is to offer a voice-enabled medium that is scalable to a number of different devices and markets, without compromising privacy. The voice AI can generate large amounts of human-like data and communicate in five languages, including English, French, Spanish, Korean and German.
The voice AI works through on-device automated speech recognition that transcribes speech into text, allowing users to ask a query that is turned into text and then interpreted by the AI assistant. Using on-device natural language understanding (NLU), the machine then speaks back the action or query that is requested.
Snips says its voice AI assistant achieved a 93 percent F1-score for its NLU, which is a measure of precision and robustness. In comparison, Facebook's Wit.ai scored a 73 percent, Google's API.ai received a 71 percent, Microsoft's Luis a 69 percent and Amazon Alexa just 56 percent.
Running the AI assistant on-device rather than in the cloud "means we are resilient to cloud outages, working even when the internet goes down," Hindi says. While this does not prevent data from being encrypted and securely transferred to other devices in the cloud, the biometric voice data of users will never be recorded by anyone, Hindi says.
The 1,000 registered users on the Snips platform include Lemon California that is incorporating voice commands into Lemon's solar powered, waterproof, wireless speakers.
"Interestingly, most of our enterprise clients are traditional hardware companies, building things like TVs, cars, coffee machines, computers and such," Hinid says. "We believe that most common objects we use on a day to day basis will become voice activated, because this removes the need to learn how to use that device, thereby making it more accessible and intuitive."
Recently, Snips closed its Series A funding and generated $13 million, bringing the total invested in the company up to $21 million. This new funding was led by MAIF Avenir with PSIM Fund managed by Bpifrance.