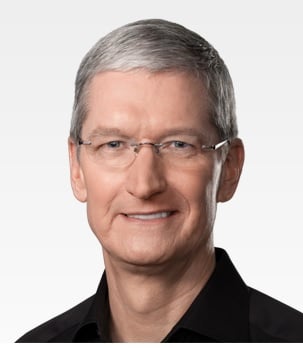 Apple CEO Tim Cook. (Source: Apple)Surprise! Apple Inc. is working on an autonomous driving program.
OK, this is not much of a surprise to virtually anyone, but Apple's top executive, Tim Cook, confirmed to Bloomberg that the iPad/iPhone maker is working on technology that would lead to self-driving cars.
Rumors have been rampant for the past few years that the company has been working on a self-driving vehicle program, first with the company developing a full car and later scrapping that idea in favor of technology that would power autonomous driving, similar to what Google's Waymo is doing.
In April, Apple appeared on a list of companies that were granted permits to test autonomous vehicles in the state of California and later, a Lexus with Apple's self-driving technology was discovered roaming the streets of Silicon Valley.
Apple joins a very long list of technology vendors that are outside the close-knit circle automotive OEMs that are working toward autonomous technology including the aforementioned Google, Intel Corp., Nvidia, NuTononmy, NXP, Bosch, Uber, Lyft and many more. Oh yeah, that close-knit circle of automotive OEMs are also working on their own technology or partnering with tech companies to accomplish self-driving capabilities.
Now that Apple is indeed a player in the market, it represents another major vendor playing for what is being hailed as a significant disrupting technology that will impact all aspects of life, beyond simply driving. Intel recently stated that self-driving cars has the potential to create a new "passenger economy" worth about $7 trillion by 2050.