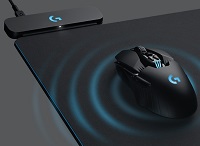 The Powerplay wireless charging system. (Source: Logitech)Logitech has introduced a new wireless charging system that it claims is the first to allow for gaming mice to continuously be charged while playing games and at rest.
The Powerplay mouse pad eliminates the need to dock or park a mouse to recharge. Instead, the mouse pad recharges the wireless mouse as the user works or plays games. Logitech has also introduced two new gaming wireless mice — the G903 Lightspeed and G703 Lightspeed — that are compatible with the Powerplay wireless charging system.
Using electromagnetic resonance, the mouse pad creates an energy field above the surface to deliver wireless power without interfering with the tracking and data transmission of gaming mice. The energy field is captured and transformed into charging current by the Powercore module, which attaches magnetically to compatible wireless gaming mice, including the new G903 and G703 devices.
The Powerplay wireless charging system is slated to be available in August at a retail price of $99.99 while the G903 and G703 wireless gaming mice are expected at global retailers this month priced at $149.99 and $99.99, respectively.