Today at the 2017 Symposia on Very Large Scale Integration (VLSI) Technology and Circuits in Kyoto, Japan, IMEC, the Belgian-based world-leading nanoelectonic research company, announced the world's first demonstration of a vertically stacked ferroelectric aluminum doped, Hafnium dioxide (HfO2) device for NAND memory applications. Devices using this non-volatile novel memory technology will have better switching speeds, lower power consumption and better retention than current memory technologies.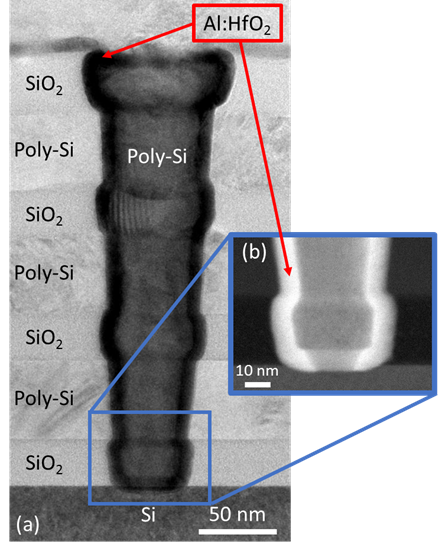 A vertically stacked ferroelectric memory chip. (Source: IMEC)
In the past, the development of ferroelectric memory have had many difficulties, including problems with retention and the materials used for fabrication. IMEC has found a method to overcome these difficulties with the discovery of a ferroelectric phase in HfO2 that shows that ferroelectric memory is really achievable.
"With HfO2, there is now a material with which we can process ferro-electric memories that are fully CMOS compatible. This allows us to make a ferro-electric [field effect transistor] (FeFET) in both planar and vertical varieties," noted Jan Van Houdt, IMEC's chief scientist for memory technology.
"We are working to overcome some of the remaining issues, such as retention, precise doping techniques and interface properties, in order to stabilize the ferro-electric phase. We are now confident that our FeFET concept has all the required characteristics," Houdt elaborated. "It is, in fact, suitable for both stand-alone and embedded memories at various points in the memory hierarchy, going all the way from non-volatile DRAM to Flash-like memories. It has particularly interesting characteristics for future storage-class memory, which will help overcome the current bottleneck caused by the differences in speed between fast processors and slower mass memory."
"FeFETs can be used as a technology to build memory very similar to Flash-memory, but with additional advantages for further scaling, simplified processing, and power consumption," added Van Houdt. "With our longstanding R&D and processing experience on advanced Flash, we are uniquely positioned to offer our partners a head start in this exciting opportunity. They can then decide how best to fit ferro-electric memories in their products and chips."
IMEC's research into advanced memory is performed in cooperation with their key partners in their core complementary metal-oxide semiconductor programs, including GlobalFoundries, Intel, Micron, Qualcomm, Samsung, SK Hynix, Sony Semiconductor Solutions, Toshiba, Sandisk and TSMC.