Researchers from the University of Southern California Viterbi School of Engineering combined new van der Waals materials with an innovative memory device design that can increase data upload speed, extend smartphone battery life and reduce data corruption.
The device incorporates ferroelectric tunnel junctions in a memory concept that allows a nondestructive readout by sandwiching a very thin ferroelectric film between two metal electrodes. The new non-volatile memory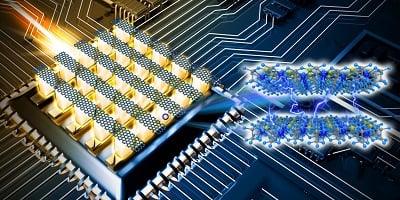 Schematic of the new memory device. Source: Xiaodong Yan, University of Southern Californiasystem can be unplugged and still retain data, much like USB flash drives. Assembled with asymmetric metal and semimetallic graphene contacts, the design exceeds the performance of previously demonstrated ferroelectric tunneling junctions and provides scope for integration with silicon electronics.
The properties and structure of the new device lend themselves to distinguishing between the different data states, which can translate into more reliable and efficient data storage and processing. Atomic scale thicknesses can be realized with van der Waals ferroelectric materials, leading to faster, energy efficient ferroelectric tunneling junction memory.
The researchers envision use of the technology as a replacement for existing non-volatile memory as well as volatile memory commonly found in computers.