Africa. It's not the place it used be. While poverty, human rights violations, civil war, AIDS/HIV, famine and drought still temper corporate enthusiasm about the continent's long-term potential, there's a buzz across the continent that is catching the world's attention – especially for mobile technology.
Regional and international investors, non-governmental organizations, mobile operators, device makers and infrastructure developers are all active across sub-Saharan Africa driven in large part by the region's young population that is connecting, interacting and conducting business digitally.
Executives at last month's Mobile World Congress (MWC), the mobile industry's main annual event, referred to Africa as mobile's last frontier, one of the world's last remaining high-population centers where last-mile mobile connections to rural, inland areas come with big promises, as well as costly challenges.
What's happening in Africa is a convergence of several factors, said Manoj Kohli, managing director and international chief executive officer of Bharti Airtel, an Indian-based telecommunications services company that has invested $13.5 billion in Africa to date. First, there's a large population of people under 30. Second, this segment of the popular is connected. Seven African nations are on Airtel's top 10 list of countries with the highest Facebook mobile penetration. Third, there is a "great trajectory" in the number of subscribers signing up for mobile services and the number of users going from voice-only connections to a mix of voice and data.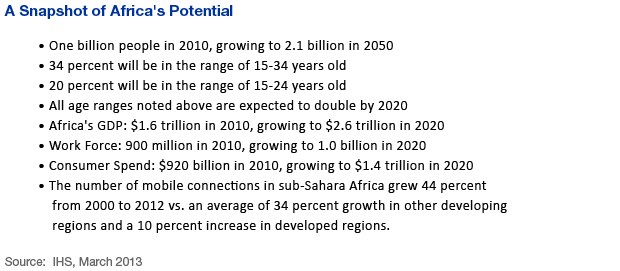 "Few markets have all of these things happening at the same time," Kohli said, noting the positive potential of these market forces in the same breath as the continent's inherent challenges in expanding further.
Mobile operators, for instance, often have to generate their own electricity, have limited allocation for wider 3G network coverage and confront issues with securing right-of-way permission to lay fiber optic cables. Because of these and other challenges, mobile penetration is probably below 50 percent, according to some executives.
"Africa has tough infrastructure, and the existing infrastructure has to be maintained at very high cost," Kohli said. "How many operators in Africa are making money? I would say only a small number. Most are losing money. The time has come to turn Africa into a profitable and sustainable business environment."
Mobile First
To forge more sustainable and profitable business opportunities, companies need to understand more about Africa and how it's different than other emerging markets or developed countries, said Ian Fogg, director of mobile at IHS.
"Innovation is happening on every continent, and Africa is no exception," Fogg said. "It's not a laggard. It is different. And there are areas where it is ahead."
Case in point: Kenya is the poster child today for its mobile money initiatives, which are now being replicated not only in neighboring countries but in other regions as well, Fogg said.
Africa has a distinct advantage of being a "mobile first" continent, Fogg added. Unlike in mature markets where companies are only beginning to talk about designing products and services for the mobile environment first, Africa is jumping ahead to mobile.
"Mobile first is not an ideal in Africa. It's a fact of life because mobile is the main communications structure throughout most of the continent. The fixed communications infrastructure has very limited coverage," Fogg said.
Another interesting dynamic playing out across Africa is the arrival of smartphones, and where they are coming from, Fogg said. Blackberry, for instance, which is having trouble regaining its market position in the developed world, is a market leader in South Africa. And Chinese players, ZTE and Huawei, which have low penetration in the U.S. and European markets, are popular brands in Africa. Low-cost Android-based phones will gain traction, too, he said.
The price points for smartphones, though, are still out of reach from most Africans, government officials and mobile executives said during MWC panel sessions. Several called on device makers to bring the price of smartphones down to as low as $30 to $50; the "sweet spot" that would make them affordable.
"If Africa is indeed the last frontier for the telecommunications industry, then device makers and operators need to think about how to bring the prices down, said Omobola Johnson, Nigeria's minister of communication technology. "Who can afford a $400, $500, $600 smartphone? Not many of us."
In response, George Ferreira, vice president and chief operating officer at Samsung Electronics Africa, said Samsung made a decision in 2010 to look more closely at the products it was bringing to the African market. It brought its engineers to Africa and examined all areas of product development in order to better meet the needs of the local market. The Galaxy Pocket is the result of that effort, and, as is more frequently happening, has become a global product serving other markets.
"The Galaxy Pocket was initially built for Africa," Ferreira said. "But now it's been launched around the globe and serves consumers worldwide.