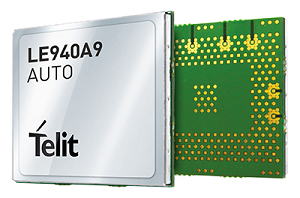 The LE940A9 automotive module. Source: Telit Telit has introduced a new automotive-grade module that supports LTE advanced Category 9 (Cat 9) networks and a download speed of 450 Mbps.
The LE940A9 offers three multi-band, multi-mode variants including voice-over-LTE (VoLTE) and is optimized for the next-generation connected car technology. With an upload speed of 50 Mbps and its fast download speed, this device is designed to enable the next wave of automobile applications as well as serve as a springboard for autonomous driving, Telit says.
Telit says the LE940A9 powers the entire connected car platform in today's current vehicles as well as future integration of new applications such as telematics and managed services. This module can run in-vehicle applications with a built-in application processor, storage and memory and application programs can run entirely on the module itself protected by advanced cyber-security capabilities.