Two designers—one with Parkinson's Disease, the other a Microsoft researcher—have collaborated on a watch that significantly reduces hand tremors. For the past year, the Emma Watch has given Emma Lawton the ability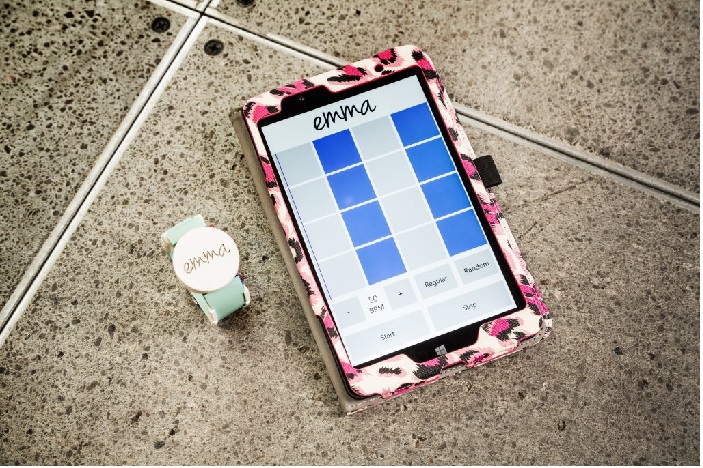 Emma Watch and Windows 10 tablet controller. Credit: Microsoft to write legibly.
Hayin Zhang, innovation director at Microsoft Research Cambridge (England), is passionate about using technology for good. When she met Emma Lawton, a young graphic designer, in London, Zhang embarked on a quest to overcome the hand tremors that prevent Lawton from writing or drawing.
People with Parkinson's disease have reduced ability to control body movements, among other symptoms. The feedback loop between muscles and the brain becomes chaotic. In Lawton's case, the faulty signals appeared to focus on her right wrist, thus preventing the right-handed Lawton from using her hand.
Zhang spent six months researching the causes of Parkinson's tremors and building prototypes of a device that could unscramble the signals that reached Lawton's hand. The device Lawton has tested for the past year sends vibrations into her hand. An application controls the frequency and pattern of the vibrations; rhythmic vibrations are effective for her. Other patients' tremors could respond to different vibrations.
Why does Emma's Watch work? Zhang is unsure. "It's like injecting white noise into that feedback loop in order to disrupt it," she says.
In order to refine the technology and streamline the device, Zhang and Microsoft colleagues are working with neuroscientists to set up initial trials for the watch. Microsoft has established Project Emma to work on a more extensive piece of research looking at how artificial intelligence could help Parkinson's patients manage symptoms and medication.
Microsoft does not plan to release the watch as a product.