Fingernails are becoming a bellwether for evaluating overall patient health.
There is ongoing research into a wearable fingernail sensor to monitor health by continuously measuring how a person's fingernail bends and moves as a key indicator of grip strength. IBM engineers designed such a sensor to monitor the status of patients with Parkinson's disease.
Nail deformation under pressure is usually on the order of single digit microns and not visible to the naked eye, but is easily detected with strain gauge sensors. The wireless device includes strain gauges attached to the fingernail and a small computer that samples strain values, collects accelerometer data and communicates with a smart watch. The watch runs machine learning models to rate bradykinesia, tremor and dyskinesia symptoms of Parkinson's disease. The data quantified the relationship between deformation and various grip types and grip force fro the researchers.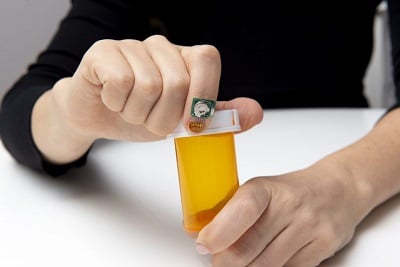 The wireless device continuously measures how a person's fingernail bends and moves, which is a key indicator of grip strength. Source: IBMA skin-based device might not be optimal for elderly patients due to brittle skin and infection risks, so researchers turned to securing health-relevant signals from fingernail bending patterns. This sensor joins the ranks of other recent fingernail analysis technologies, such as those that review smartphone photos of fingernails to screen for anemia, an MIT system that visualizes blood cells flowing through fingernail capillaries to determine if white blood cell levels are at a safe level in chemotherapy patients and a non-invasive procedure which assays nail clippings to identify exposure to both natural and man-made sources of uranium.
The research is published in Scientific Reports.