The development of microelectrode sensors affords a direct channel for recording and affecting brain activity. Deep brain stimulation, for instance, has been used to treat many disabling neurological symptoms, including Parkinson's disease.
Although designed to be implanted in the brain, available microelectrode sensors are composed of silicon or metal, making them bulky and rigid. A new version of these devices under development by researchers from MIT and Virginia Polytechnic Institute and State University promises a smaller, flexible and biocompatible neural microelectrode.
The miniature neural device incorporates carbon nanofiber composites, resulting in an implant that records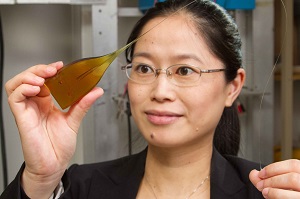 Virginia Tech researcher Xiaoting Jia holds a miniature neural device that records signals from the brain and stimulates neural activity. (Source: Virginia Tech)brain signals and also stimulates neural activity. Use of the nanomaterial enabled a reduction in microelectrode size and an increase in electrical conductivity.
The researchers heated a hand-sized version of the probe — called a macroscopic preform — and then stretched it from a tall tower (a fiber drawing tower). During this process, which pulled the preform into a long, thin strand, the carbon nanofibers lined up lengthwise, imparting flexibility and increasing electrical conductivity.
The probes are about the size of a single neuron and are obtained from thin, cross-sectional slices of the strand, which contain nano-sized versions of the original features. The team is now studying the stability and functionality of the implants in the hippocampi of mice brains.