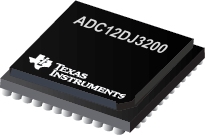 The 12-bit ADC12DJ3200 analog-to-digital converter. Source: TI The latest semiconductor devices from Texas Instruments include an analog-to-digital converter (ADC) and phase-locked loop (PLL) with an integrated voltage-controlled oscillator (VCO) designed for 5G systems, radar and satellites.
The 12-bit ADC, dubbed ADC12DJ3200, supports direct radio frequency sampling up to 10 GHz covering L-band, S-band, C band and extending into the X-band. With speeds up to 6.4 GSPS, this ADC is tiny at 10mm by 10mm reducing board space by up to 88 percent compared to other solutions and consumes as little as 3 W.
The PLL, dubbed LMX2594, features a normalized noise floor of negative 236 dBc/Hz and 1/f of negative 129 dBc/Hz to improve radio sensitivity and spectral resolution. The wideband PLL generates frequencies of up to 15 GHz without using an internal frequency doubler, TI says.
THE ADC12DJ3200 is sampling now priced at $1,920 in 100 unit quantities. The LMX2494 is available now priced at $41.00 in 1,000 unit quantities.