Linear Technology has introduced a low-power I/Q modulator, the 
LTC5589
, which enables battery-powered, high-performance broadband transmitters operating from 700 MHz to 6 GHz. Powered by a single 2.7 V to 3.6 V supply, the LTC5589 modulator draws only 29.5 mA current—50% lower power consumption than other solutions.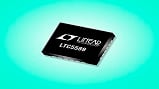 LTC5589 I/Q Modulator. Source: Linear Technology.
The modulator exhibits best-in-class sideband suppression performance of -50 dBc and carrier leakage of -43 dBm typical without calibration. Sideband and carrier suppression can be further improved by using the on-chip tuning capabilities via the SPI bus, to better than -60 dBc and -60 dBm, respectively. Moreover the device has a very low output noise floor of -158.8dBm/Hz, combined with OIP3 of 19 dBm, resulting in superior transmitter performance.
The LTC5589 supports narrowband as well as wideband transmitters. Its baseband bandwidth extends to 92 MHz with ±1dB gain flatness, providing 184 MHz RF bandwidth at 1.8 GHz. Combined with low power consumption and robust performance, the device is suited for a wide range of demanding applications for radios and wireless communications. These include broadband modems, femto- and picocell-broadband wireless access, wireless microphones and portable audio systems, broadband portable field radios, unlicensed band radios, train communications, software-defined radios, portable RF test equipment, low-power microwave backhaul and repeaters, telemetry radios, and satellite modems.
The LTC5589's gain can be set via the on-chip serial port. A coarse gain control provides 1dB/step, along with adjustable fine gain control of 0.1dB. Total gain ranges from -19 dB to 0 dB. Varying the modulator gain affects device supply current from 9 mA to 39 mA, so the device can be set to lower power consumption with slightly reduced gain and performance, as needed for specific applications. Once set, the gain can be automatically temperature-compensated by activating the on-chip temperature correction feature.
The LTC5589 is available in a 4 mm x 4 mm plastic QFN package, providing a small solution footprint. Operating temperature range is specified from -40° C to 105° C. The device has an enable pin for TDD or burst-mode transmitter operation. When disabled, the LTC5589 conserves power by drawing 0.6 µA of standby current. The modulator can be turned on with full quadrature accuracy in 350 ns. The LTC5589 is priced starting at $4.45 each in 1,000-piece quantities, and is available in production quantities.