Texas Instruments (TI) has released two new wideband RF phase-locked loops (PLLs) with integrated voltage-controlled oscillators (VCOs) to deliver unprecedented phase-noise performance. With 1.8-GHz carrier open-loop VCO phase noise of -144.5 dBc/Hz at 1-MHz offset, and normalized PLL noise floor at -231 dBc/Hz, the new wideband PLLs, LMX2582 and LMX2592, are designed to meet the multi-carrier wireless Global System for Mobile (GSM) Communication standard. In addition, they also offer the highest phase-detector frequency of 400 MHz to achieve a very low RMS jitter of 47 fs. The low noise floor performance makes them suitable for clocking high speed data converters.
Comparable to high performance discrete designs, TI's single chip wideband PLLs, LMX2582 and LMX2592, support output frequencies of up to 9.8 GHz, allowing a single device to support various frequency bands in end applications including test and measurement, defense, microwave backhaul, satellite, and wireless communications equipment.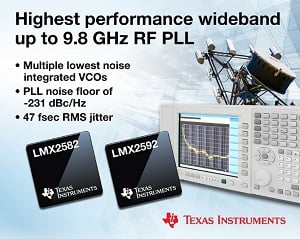 Low noise, wideband RF PLLs with integrated VCOs support a frequency range of up to 9.8 GHz
While LMX2592 supports a frequency range of 20 MHz to 9.8 GHz, LMX2582 handles frequencies up to 5.5 GHz. Thus allowing designers to use one PLL for a range of wideband system designs. To improve channel density, the devices' spur-removal technique eliminates integer boundary spurs (IBS). Likewise, on-chip low-dropout regulators (LDOs) manage power-supply variations and improve noise immunity. A channel divider allows up to two differential outputs.
The LMX2592 and LMX2582 are available in a 40-pin, 6-mm x 6-mm quad flat no-leads (QFN) package. For 1,000-unit quantities, the LMX2592 is priced at $19.00 USD, and the LMX2582 is priced at $9.00 USD. To quickly evaluate the performance of these wideband RF PLLs, TI also offers evaluation modules (LMX2592EVM and LMX2582EVM) priced at US$299 each.