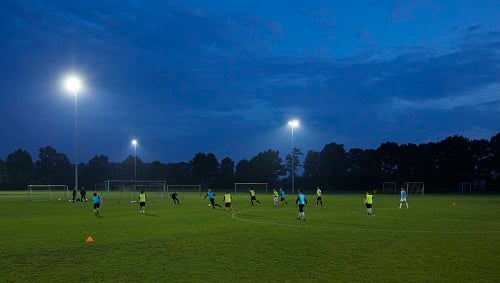 Philips PerfectPlay LED lighting could be used at recreational facilities for soccer, rugby, golf, tennis or even inside at a gym. Source: Philips Lighting Philips Lighting has introduced its first integrated, connected light emitting diode (LED) lighting system targeted at recreational sports fields.
The Philips PerfectPlay system aims to reduce energy costs, simplify operations and provide better lighting for sports players. The system can be controlled by either a simple tap on a control panel or via a smartphone or tablet anywhere in a sports facility or remotely.
Philips says the system could be used at sport facilities for soccer, tennis, rugby, skiing, golf or even inside a gym. PerfectPlay has the ability to change light scenes on the fly and comes with three modes including "match" with 100 percent lighting needed for official matches, "training" with 50 percent dimming and "comfort" with 10 percent lighting to create ambiance for socializing and safety.
Because the lighting can be used both indoor and outdoor and has the ability to be controlled remotely, it eliminates the need to have an employee on-site during all opening hours.
Philips says it has installed its PerfectPlay LED lighting at the Sparta '25 facility in Bee ken Donk, The Netherlands. The facility, which supports more than 1,000 members, installed 18 OptiVision LED gen2 floodlights and can be controlled in the dressing rooms of the facility for fast changing of the light settings.
"There are more than two million recreational sports fields globally, and yet less than 1 percent of them benefit from LED lighting cost savings and easy controllability," said Ronnie Koster, global head of Arena & Sports Lighting at Philips Lighting. "The quality of light is important and can be the difference between a good and bad match experience. In addition, our luminaires and light settings are designed to reduce light pollution in residential areas while widening access to sport in the local community."