An interactive design tool from Carnegie Mellon University, PA, is available for those who wish to build customized legged or wheeled robots. Intended for beginners and experts alike, the design system uses the familiar drag-and-drop interface to guide in the use of 3D-printed components and off-the-shelf actuators.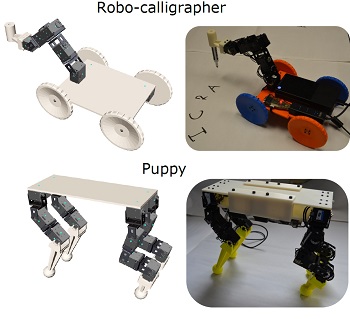 Novices and experts can use the interactive design tool to build customized robots using 3-D printed parts. (Source: Carnegie Mellon University)Users can select from a library of components and place them into the design. The tool also suggests components that are compatible with each other, offers potential placements of actuators, and can automatically generate structural components to connect those actuators. A physical simulation environment is provided at the end of the design phase to test the robot before fabricating it, enabling users to iteratively adjust the design to achieve a desired look or motion.
The tool is based on a design abstraction that models the way in which electromechanical components can be combined to form complex robotic systems. The abstraction is used to develop a visual design environment that enables an intuitive exploration of the space of robots that can be created using a given set of actuators, mounting brackets and 3-D printable components.
The research team designed a number of robots with the tool and verified its feasibility by fabricating two — a wheeled robot with a manipulator arm that can hold a pen for drawing, and a four-legged "puppy" robot that can walk forward or sideways.