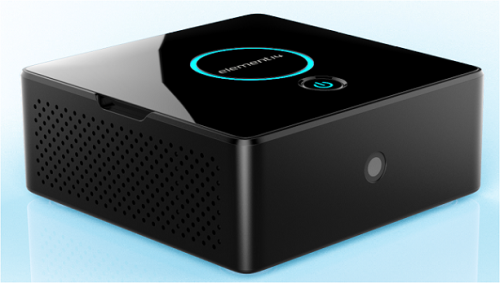 The Pi Desktop turns any screen with an HDMI connection into a desktop PC. (Source: Avnet)When Avent Inc. acquired Premier Farnell it gained a valuable asset of the maker space in its Element14 division — a community of engineers and experimenters run by American console modder Ben Heck.
At this past weekend's Maker Faire Bay Area, Element14, through Avnet, introduced a pair of new Raspberry Pi-based modules targeted at tinkerers, experimenters and DIY enthusiasts that are seeking to develop products rapidly.
The first device is the Pi Desktop that allows users to turn any screen into a desktop such as a TV, monitor or anything with an HDMI interface. The Linux-based module includes Wi-Fi, Bluetooth, a real-time clock, mSATA solid-state drive interface, optional camera and power switch.
"Normally Raspberry Pi comes with cables and wires that a user has to deal with or the need to add external hardware to get it to work as a desktop, plus there is no key to turn it off or shut down," Kamran Ravanasa, embedded specialist for Element14 tells IEEE Electronics360. "With Pi Desktop, everything is already in it and everything is easy."
Ravanasa says Pi Desktop eliminates the need to use a bundle of wires and multiple boards everywhere instead delivering a solution that is contained inside one box and can turn HDMI-based screens into desktops in a matter of minutes.
The Pi Desktop kit, includes an add-on board containing the mSATA interface, intelligent power controller and RTC, a heat sink, USB adapter, RTC battery and all the necessary spacers and screws. The Pi Desktop is slated to be available by the end of this month priced at $49.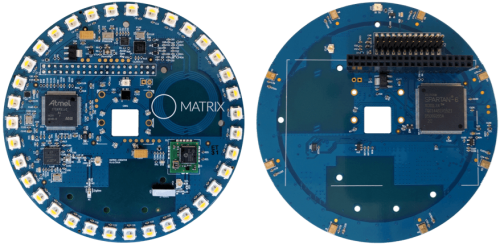 The Matrix Creator connects to a Raspberry Pi to enable makers to create gadgets, drones, robots and more. (Source: Avnet)Meanwhile, Element14 is expanding its line of Matrix prototype boards with its Matrix Creator module for Raspberry Pi. Avnet says the Matrix module allows makers to create almost anything and is especially suited to run voice-activated systems, as it contains an eight microelectromechanical systems (MEMS) microphone array.
The module runs on a Xilinx Spartan 6 field programmable gate array (FPGA) and an ARM Cortex M3 microcontroller. Other components include a temperature sensor, ultraviolet sensor, pressure sensor, 3-D accelerometer, 3-D gyroscope, 3-D magnetometer, humidity sensor and 35 light emitting diode (LED) array.
Using the Matrix Creator, builders, developers, makers and engineers can create development boards for DIY Amazon Alexa devices, future robots, computer vision, gesture recognition, drones, smart home devices and more. The Matrix Creator is set to be available in the next month.