Distributor Mouser Electronics Inc. is now stocking the FM0-100L-S6E1B8 Starter Kit from Cypress Semiconductor. This platform allows developers to design with and evaluate the FM0+ S6E1B Series of ultra-low-power 32-bit microcontrollers. The S6E1B Series microcontrollers are based on the 40-MHz ARM® Cortex®M0+ processor with 64-channel direct memory access (DMA), which consumes just 65µA/MHz in active mode and includes 560 KBytes of on-chip flash memory and 64 KBytes of SRAM. The kit enables rapid development of high-performance embedded systems using an Arduino Uno-compatible interface to connect to Arduino shields for low-cost hardware expansion and application development.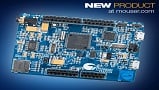 The Cypress FM0-100L-S6E1B8 Starter Kit, available from Mouser Electronics, includes the S6E1B8 Starter board, a quick-start guide and a USB-A to micro-B cable. The board includes 82 general-purpose inputs and outputs plus peripherals, such as a Micro SD card interface, headphone and microphone jacks, accelerometer, potentiometer, RGB LED and user button. In addition to the Arduino Uno-compatible headers, the board features 32 "free" pin headers for accessing more pins and peripherals, such as multifunction serial interface, base timers, PWM and a 12-bit analog-to-digital converter. 

For communication, the onboard S6E1B8 microcontroller offers USB host and device, UART, CSIO (SPI), I2C and I2S interfaces. Additionally, engineers can program and debug the microcontroller via a CMISI-DAP JTAG emulator or by connecting to an external JTAG emulator. The S6E1B8 microcontroller comes preprogrammed with an interactive application to test all of the onboard features using a virtual communication port to send message prompts, input test parameters and output test results.