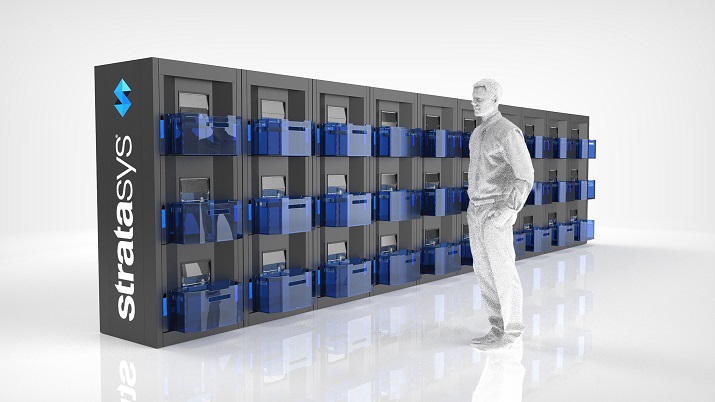 The Continuous Build 3D Demonstrator can be expanded to meet demands of production. Source: Stratasys 3-D printing vendor Stratasys has demonstrated a new additive manufacturing platform with multiple 3-D print cells working simultaneously driven by a cloud-based architecture.
The system is designed to produce 3-D printed parts in a continuous stream ejecting completed parts and starting new parts with minimal intervention. The Continuous Build 3D Demonstrator can produce a different job in each different 3-D print cell to enable mass customization projects. Cells can be added in order to scale the platform in a factory due to increased demand.
Automatic queue management, load balancing and redundancy accelerates job throughput because jobs automatically are routed to available print cells, Stratasys says. If a print cell fails, the job is re-routed to the next available cell.
Stratasys says the system could be used for education RP labs and those businesses that benefit from zero tooling production and from a zero inventory supply chain.
As part of its demonstration, Stratasys has released the projects of three customers working with the Continuous Build 3D Demonstrator.
The first is Savannah College of Art and Design (SCAD) in Savannah, Georgia that will use the additive manufacturing process to allow students to have access to 3-D printing services 24/7. The Stratasys Continuous Build 3D Demonstrator will be installed in the university's Design Lab to help students learn about 3-D printing and will be focused for students to advance design projects and skills.
In'Tech Industries, Inc. is using the system to create bridge-to-production solutions for OEMs. The systems will allow In'Tech to produce same-day or next-day delivery of quantities of identical or mixed parts that eventually will be injection molded.
Manufacturing firm Fathom is using the Demonstrator to adopt digital fabrication beyond prototyping as a means of production. Fathom is using a six-cell configuration to increase the volume of FDM parts in a shorter lead time. Fathom says it can use the printer to print not just a hundred just-in-time parts but thousands of parts on-demand.