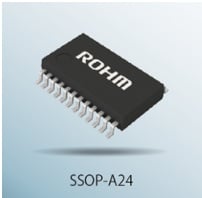 The BD34602FS-M audio processor. Image credit: Rohm
Rohm Semiconductors has announced the availability of a high resolution audio playback processor for car audio and navigation systems.
The BD34602FS-M features low 0.0004 percent distortion and 3.1uVrms floor noise to make it possible to extract data from sound sources, improving spatial representation. This improves car audio quality while promoting the adoption of high resolution sources and a reduction of cabin noise.
The audio processor reduces IC midpoint bias circuit noise by about 20 percent, decreases noise generated low-frequency noise in the volume circuit by up to 10 times and improves resolution and spatial representation.
The BD34602FS-M includes an interrupt function for both voice navigation and hands-free modes and minimizes popping noises that may occur when turning mixing on or off.