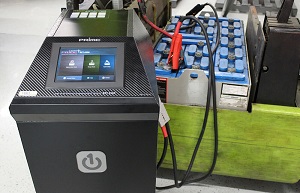 Lead-acid batteries have an industry-standard battery life of five to seven years (1,500 to 2,100 charge/discharge cycles), but poor operating and maintenance practices can shorten service life. Battery health and lifespan can be improved with a BR-500 Battery Regenerator & Charger from Eagle Eye Power Solutions (Milwaukee, WI).
The multi-functional, universal 3-in-1 regenerator for 2 - 96V lead-acid batteries uses intelligent smart control pulsing technology to increase battery capacity. High frequency pulse technology removes sulfation in a regeneration process that minimizes damage to electrode plates. The current pulses and converts sulfate crystals back to liquid molecules in the electrolyte.
The BR-500 automatically controls voltage and current per type of battery. A built-in software algorithm searches for the optimum frequency to restore battery capacity by using a built-in microprocessor, allowing faster regeneration speeds.
Use the 8-inch touch-screen display to start the regeneration process: 1) select a battery type 2) select the battery voltage 3) select the battery capacity 4) review the set-up options and press START. After finishing the regeneration process, a result screen displays the set-up mode, voltage, capacity and total time. The BR-500 also has a graph option that allows the user to view the voltage and current supply in real-time during regeneration. Equipped safety features include over-voltage, over-temperature and surge protection.