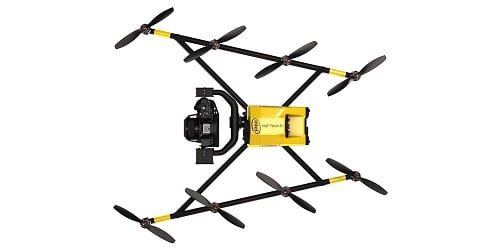 The Falcon 8+ drone now in production. Source: Intel Intel Corp. has started ramping production of its Falcon 8+ drone for use in the commercial space for the North American market.
The drone is for use in industrial inspection and close mapping applications designed to go places that are either too dangerous for humans or cannot be reached easily. Furthermore, the use of drones for these types of applications is a way to accelerate productivity, having humans do other more meaningful jobs instead of the ones the drones can accomplish.
Intel says conventional methods of inspecting or surveying result in hours of downtime, revenue loss, delayed work or even injury, as many of these inspections require unusual or hard-to-reach places to be accessed including cell towers, bridges and wind turbines. Using a drone for these jobs not only is a safer alternative but allows the job site to remain in full production and the surveying can take as little as 15 minutes.
Intel gives an example of a Falcon 8+ drone working on an oil rig and using it for aerial mapping, inspection, progress reporting and collecting liability evidence while keeping employees safe and productive.
The drone is designed to work in high winds as well as resistance to magnetic field disturbances in order to capture data accurately. Other features include electronic system redundancy, autopilot and battery redundancies. Image resolution of photos taken can provide details down to millimeter resolution.
"Intel is working to evolve and broaden the use of drones via technology to make them smarter and more aware, to evangelize drone policy and regulation, and to demonstrate how drones can be used in productive and exciting ways – making the most amazing experiences of the future possible," says Anil Nanduri, VP and GM of unmanned aviation systems at Intel.