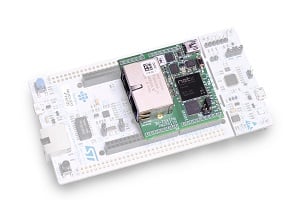 The I-NUCLEO-NETX expansion board. Image credit: STMicroelectronics
STMicroelectronics is partnering with Hilscher for an expansion board that uses the STM32 ecosystem to support multi-protocol real-time Ethernet networks.
The board can be used with any STM32 Nucleo-64 or STM32 Nucleo-144 development board and the I-CUBE NETX—an STM32Cube software expansion for combining Hilscher's netX 52 network controllers with host microcontroller from ST.
ST says I-NUCLEO-NETX expansion board contains a netx 52 network controller IC with real-time Ethernet switch, two RJ45 ports for line and ring topologies and support for EhterCAT, PROFINET, EtherNet, Ethernet/IP, POWERLINK, CC-LINK IE, Modbus TCP and SERCOS III. It also supports standards such as CANopen and emerging standards such as time-sensitive networking (TSN), OPC-UA and MQTT for cloud data exchanges.
The I-NUCLEO-NETX expansion board is available now on Amazon, priced at $49.00.