If you are a maker, want to design something or just figure out if something will work, then you probably want to look into using computer aided design (CAD) software. CAD software is a tool used to do all sorts of things from artistic to engineering-type things.
If you have purchased a 3D printer, laser cutter or any other type of computer-controlled machine, the first thing you have to figure out is what to make. When you are first starting out, you are likely going to simply download the work of others. This is a good way to start but you will soon want to create your own stuff or modify the work of others. I know my 3D printer has become more of a tool that I use to create or repair things instead of just making tchotchkes. Perhaps you have had an appliance fail and the root cause was some little plastic part, or the knob or button to some device broke or got lost. Maybe you want that unique key chain figure that no one else has. Whatever the case may be, there will come a time that you will have a desire to create your own design. This may sound like a daunting task but it is actually quite simple with the right tools. The great thing is, lots of great free software exists to help you invent all sorts of things, and most of it is very intuitive.
You should start out by figuring out what you want to design. Is it an artistic design, a statue, a functional part or something else? Depending on your goal, it will play a role in what software will best be able to help you. I have developed a list of a lot of the free software available for 3D design that should help you decide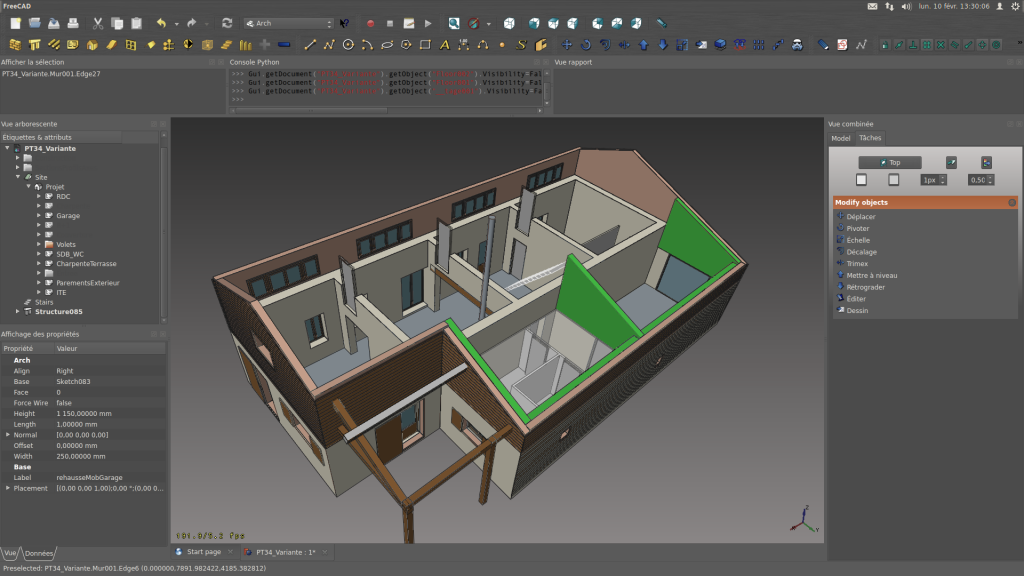 which one is best for your application.
FreeCAD - Other than being free, this software is also open source. For those who like to program, you can modify the software to suit your own needs. The software does include some more basic CAD functions and is a good introduction. It is designed around creating real-world objects. The software has a collection of tools for various projects such as architectural or parts design.
SketchUp Make is billed as being intuitive. This software is free but the more advanced, pro version does cost money. As the name implies, this is more of a sketch-type tool, although it is often used for architecture. Indeed, it is quick to draw out a basic building structure and add some texture to it. It is capable of doing much more complex designs as well but does have a learning curve. Doing engineering designs in this software, while not impossible, may be more challenging.
Sculptris is designed around the idea of digital sculpting and is great for making statues or other sculpture-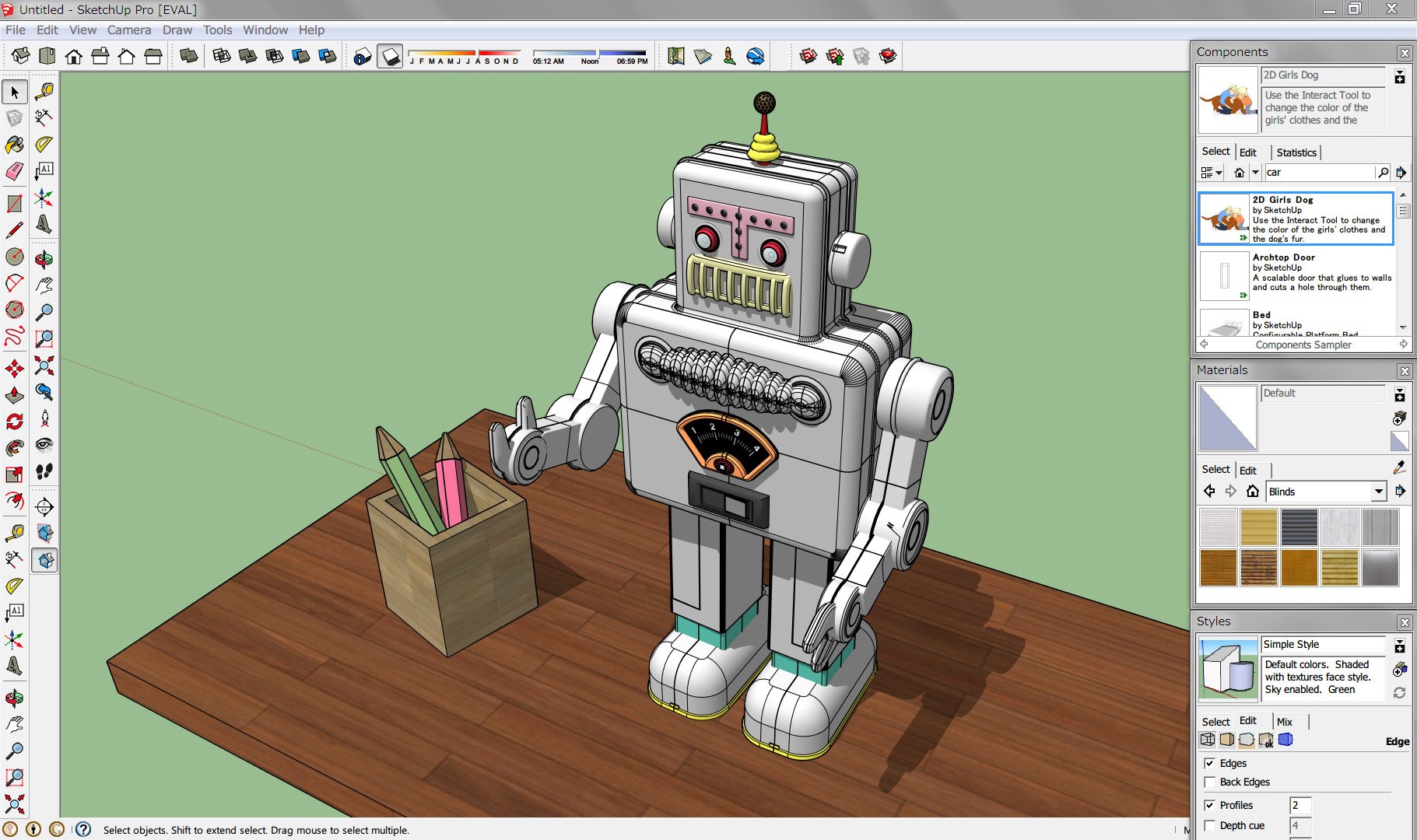 CC BY SA 3.0 Takuro1202like structures. This software is good when exact dimensions are not important but appearance is.
Tinkercad is an online application that runs in a web browser. It uses the idea of building designs by addition and subtraction of pre-defined shapes. This software is good for basic designs but will become tedious for more intricate things. The parts can have exact measurements so it could be used for engineering, but only for basic parts.
OpenSCAD is for modeling precise and engineering-related designs. It is not very good for artistic aspects but great when you need to design something that when fits together, functionally works. The software allows you to start with solid 3D structures or start with 2D shapes that are pulled to be a 3D object. This software can run in Linux/Unix, Windows and Mac OS X.
OpenJSCAD is a GUI web version of OpenSCAD.
KiCad is a little different than most of the others in this list as it is primarily for designing printed circuit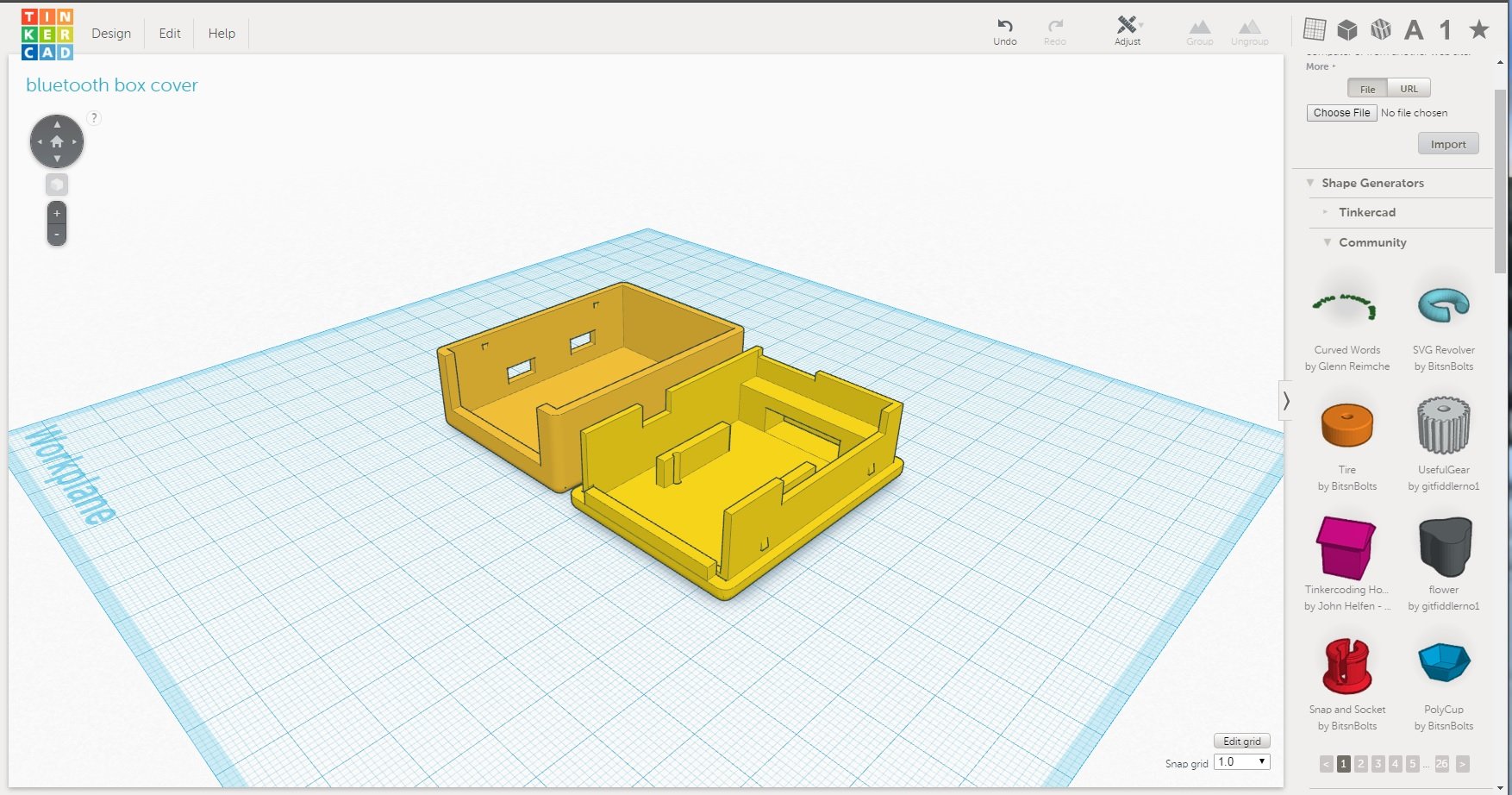 boards (PCB) and isn't a true 3D modeling software, but it does allow you to view your PCB in 3D, which can be exported to other CAD packages.
3DCrafter is for modeling and animation of 3D objects. This software has a paid version as well as the free version. It features a drag and drop type interface and is more designed around the artistic process.
3D Slash is specifically designed around creating printable objects for 3D printers. The software was developed from the idea of kids playing Minecraft where they were creating 3D models without even knowing it. The software works with the idea of tools to remove and add cube-shaped parts such as a trowel and chisel. It is designed to be easy to use for those that have no CAD or design background.
SculptGL is a web-based sculpting tool for artistic-type designs. It starts with a mirror image–type format that can be painted, pulled and otherwise manipulated to quickly create an artistic sculpture–type design.
Wings 3D is an artistic-based design tool that is designed to be easy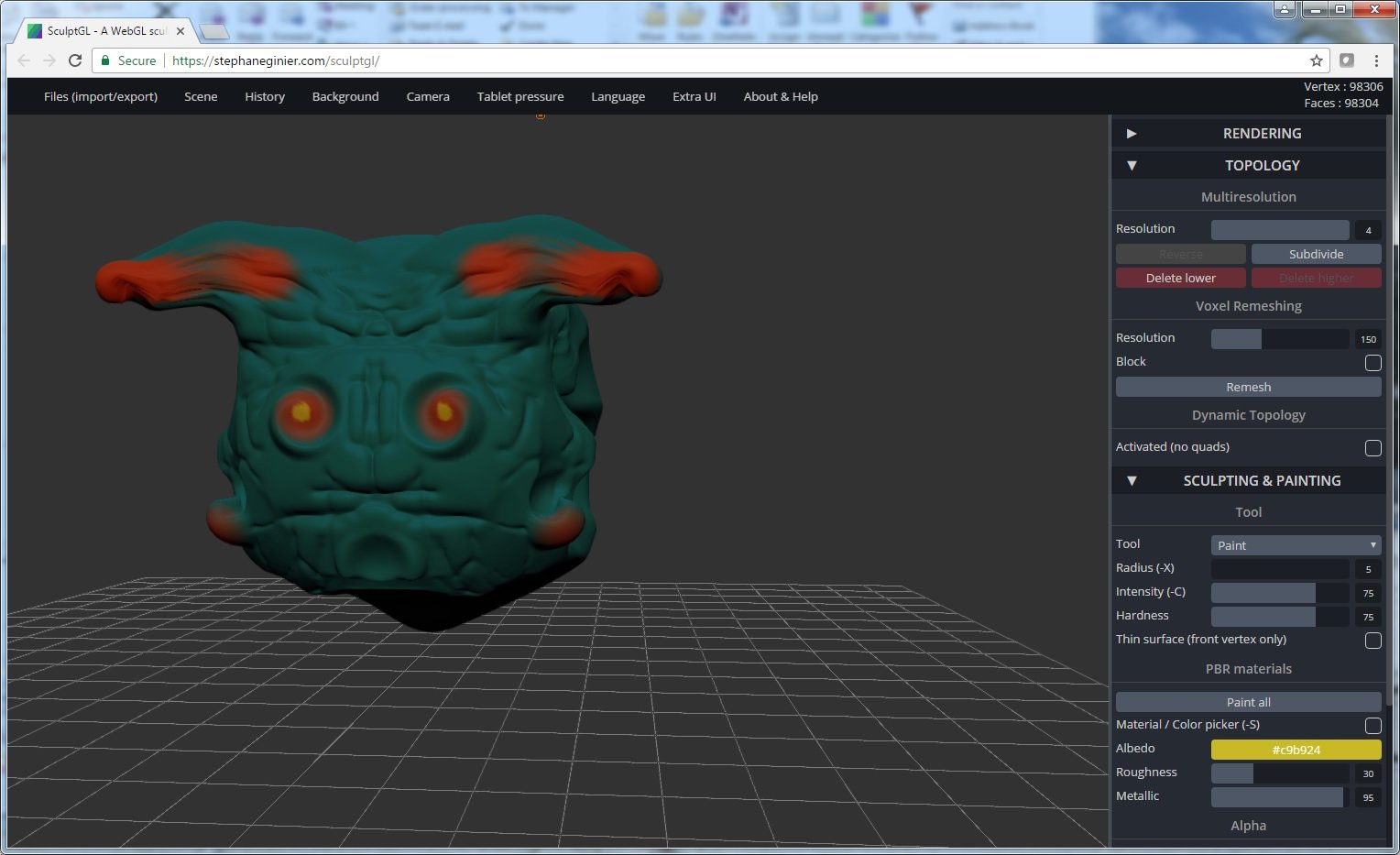 to use and learn. It is good for creating artistic-type sculptures but could be used for some engineering designs as well. This software gets its name for the winged-edge data structures it uses to store adjacency relationships.
Meshmixer is from Autodesk and is based on utilizing a mesh structure for designing and editing 3D objects. Three-dimensional objects are often represented by connected triangles called a mesh, where the smaller the triangles, the finer the details or smoother a curve can be. The software allows you to edit this mesh or create a mesh from scratch. Editing could be useful for a scanned object or minor adjustments to a shape done in another design package.
SolveSpace is a parametric modeler for engineering-type designs. It runs in Windows Linux and Mac OS. This software includes the ability to do mechanical simulations such as a motor turning and parts moving so you can figure out how designs will work. It can output 2D files appropriate for cutting machines and other formats for import.
Onshape is a cloud-based CAD platform designed with collaboration in mind. The software is free for public used but does cost money for a business to use. The software allows for a team of people located in different geographies to work on the same design. The software is good for engineering-type designs and uses parametric and feature-based modeling methods.
BRL-CAD is a little different than some of the others because its primary purpose was designed around geometric analysis such as electromagnetic and ballistic analyses. The software is a geometry editor and has ray-tracing support for graphics rendering. The software is really a collection of tools, libraries and utilities that work together.
Fusion 360 is from Autodesk and is a cloud-based platform for Windows and Mac OS–based computers. The software is good for both engineering and sculpting-type use as well as doing simulations of parts such as showing where parts will have the most stress. The software can also help with preparing the design for manufacturing by 3D printing or milling.
Blender is an art-based design software but also has the ability to do engineering-type designs for certain things. The software can be used for engineering, drafting, architects and other design work. It is based on the OpenCascade toolkit. Blender is an open source program and has some versions with different functionality.
AutoCAD and Autodesk Inventor have a free educational license for 3 years. Both of these are engineering-based software for creating designs. The software is good for things like drafting, architecture and other applications. Inventor is good for creating prototypes and doing simulations of products.
Sweet Home 3D is designed to help you plan out your house and arrange furniture. This software is designed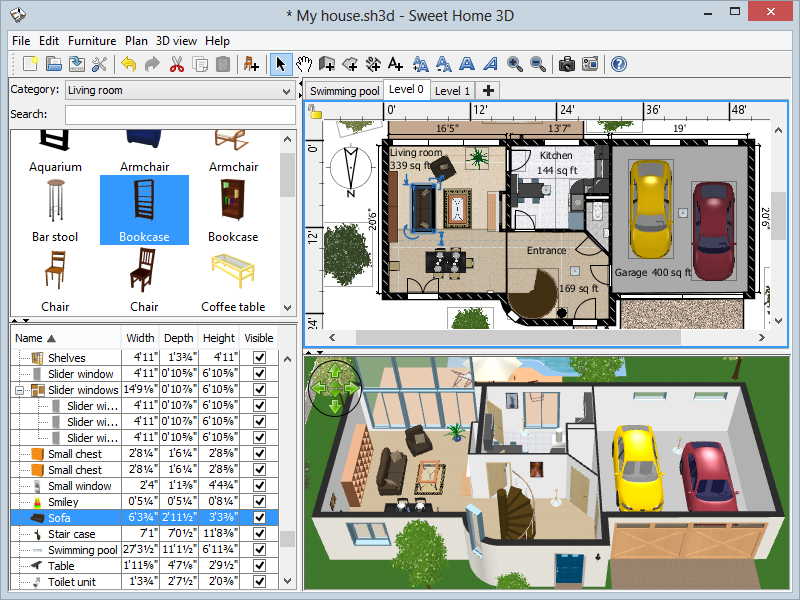 CC BY SA 4.0 Emmanuel Puybaretaround homes and apartments so you don't have to keep moving your heavy furniture to figure out how it will look. It allows you to virtually see the results in 3D before you actually move stuff.
Antimony is designed around three mostly orthogonal axes. Modeling is done by connecting notes in a graph. The notes have customizable script that defines them. This software takes its inspiration from Lisp machines as opposed to many others that try to mimic a drafting table.
Art of Illusion uses subdivision-based modeling tools and skeleton-based animation. This is more of an artistic approach to design based on sculpting as opposed to engineering-type software.
gCAD3D - This software works in Linux and Windows, and is an engineering-type design software that uses parametric-type design. The software allows you to import and export designs as well as generate geometric objects.
There is an ever-changing landscape of design software, and this list should help get you started. I haven't used every single software package in the list but I have used a number of them. Quite a few are very intriguing to me that I plan to try. In the course of researching this, I did try a number of others I hadn't used before and quite enjoyed them. I hope you will have fun with these too while you create something new.