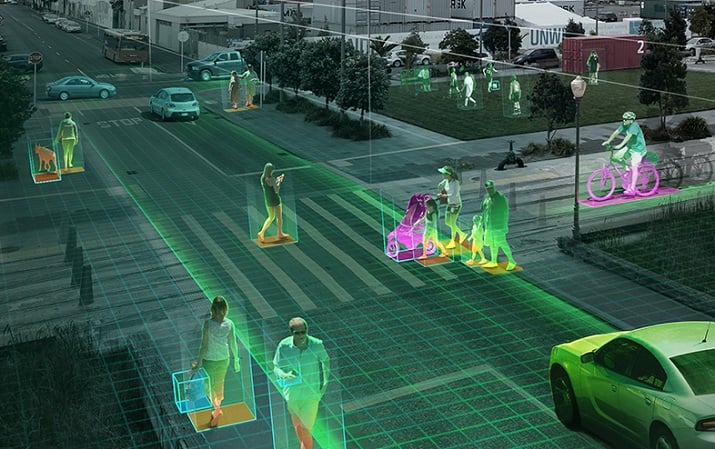 The Metropolis platform is designed to use intelligent video for safer and smarter cities. Source: Nvidia Nvidia Corp. has rolled out its Metropolis Intelligent video analytics platform aimed at smart cities to apply deep learning to video streams for applications such as public safety, traffic management and resource optimization.
As video is the most pervasive technology for capturing data from cameras deployed in areas such as government property, public transit, commercial building and roadways, the idea of real-time video analytics using deep learning in the cloud will help monitor video instantaneously with accuracy and scalability, Nvidia says. The number of cameras to be deployed for video in cities is expected to 1 billion by 2020.
"Deep learning is enabling powerful intelligent video analytics that turn anonymized video into real-time valuable insights, enhancing safety and improving lives," said Deepu Talla, vice president and general manager of the Tegra business at NVIDIA. "The NVIDIA Metropolis platform enables customers to put AI behind every video stream to create smarter cities."
The platform uses Nvidia Jetson-embedded computing platform and runs through servers and data centers with Nvidia Tesla GPU accelerators. Data visualization is powered by Nvidia's Quadrop graphics and the company is offering software development kits for the platform that includes JetPack, Deepstream and TensorRT software for smart cities.
Nvida says more than 50 artificial intelligence partners have already adopted Nvidia GPUs to reveal insights and take real-time action using deep learning for smart cities. Some of these companies include Avigilon, Dahua, Hanwha Techwin, Hikvision and Milestone.
"NVIDIA's end-to-end Metropolis platform can be applied to video streams to create smarter and safer applications for a variety of industries – from transportation to commercial," said Shiliang Pu, president at Hikvision Research Institute. "The benefit of GPU deep learning is that data can be analyzed quickly and accurately to drive deeper insights."