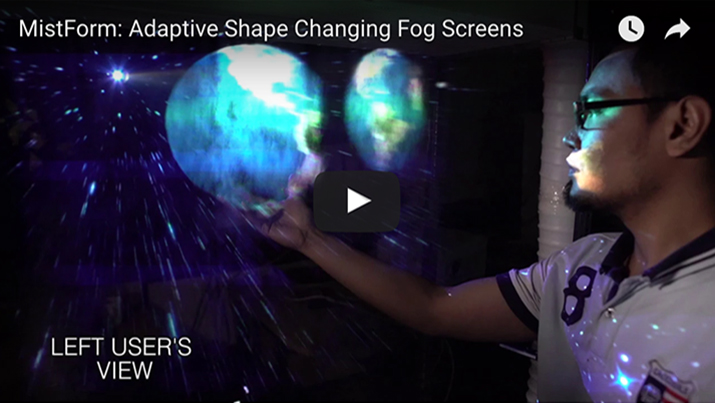 Imagine being able to see and talk to the pirate Blackbeard while walking through a dark alley, then stepping right through him as he disappears into thin air.

The University of Sussex has combined two technologies—shape-changing displays and fog screens—to create MistForm, a display that allows users to interact with 2-D and 3-D objects floating in space.

The invention will be presented on May 10, 2017, at CHI 2017, the Association for Computing Machinery Conference on Human Factors in Computing Systems (CHI). The conference, being held this year in Denver, Colorado, is generally considered the most prestigious in the field of human-computer interaction.

MistForm is roughly the size of a 39-inch television screen and is formed by fog stabilized by curtains of air. The technology optimizes the experience of fog displays, which scatter light unevenly. The display is projected from above and motion trackers detect the user's movements and intentions, which allows the display to adapt accordingly. By making use of shape reconstruction and 3-D projection algorithms, the display can flexibly adapt to single or multiple users interacting with its floating content.

The display also can bend into a variety of shapes—curving around two collaborators to provide optimum visibility for both people, for example, or triangulating to allow those same collaborators to work on different areas of the screen independently.

Blackbeard aside, MistForm could have applications in fields such as medicine, where surgery training would benefit from the display's ability to keep hands, scalpel and virtual organs all in focus. Eliminating the need for head-mounted displays, trainees could continue to engage with one another as in a real-world operating theater.

"This has the potential to enable new forms of interaction and collaboration with computers, liberating users from fixed, static screens and opening up whole new interactive spaces," said Dr. Diego Martinez Plasencia, a lecturer in the Interact Lab at the University of Sussex School of Engineering and Informatics.