Forget curved or even foldable displays being the centerpiece of your next mobile device— how about a device that consists of a chain of modules that can change shape into a variety of 3-D geometries?
That's what researchers at the University of Bristol and Universities of Purdue, Lancaster and Sussex are proposing with their new prototype modular interface dubbed Cubimorph. The shape-changing modular design holds touchscreens on each of the six module faces and uses a hinge-mounted turntable mechanism to self-reconfigure in the user's hand.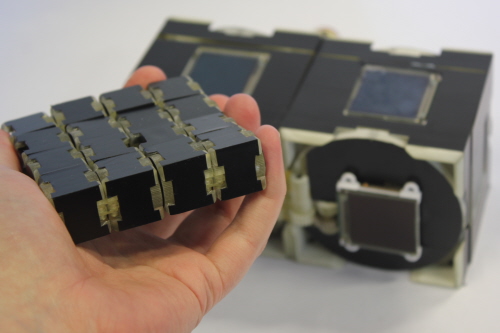 Potential uses for the Cubimorph touchscreen could be as a mobile phone that can transform into a console when a user launches a game. Source: University of Bristol Researchers say interest in modular interactive devices has been growing in the human-computer interaction community. But so far devices that have been introduced—mainly folding displays—do not include a high shape resolution.
Cubimorph is made out of a chain of cubes and is designed to be shaped into whatever functionalities are required by end-users—whether it be a game controller, a differentiated smartphone or other mobile device.
The researchers unveiled three prototypes that include turntable hinges, embedded touchscreens and miniaturization, as well as an adaptation of the probabilistic roadmap algorithm for the reconfiguration at the recent International Conference on Robotics and Automation, which took place last week in Stockholm, Sweden.
"Cubimorph is the first step towards a real modular interactive device," says Dr. Anne Roudaut, research lead on the project and professor at the University of Bristol's Department of Computer Science. "Much work still needs to be achieved to put such devices in the end-user hands, but we hope our work will create discussion between the human-computer interaction and robotics communities that could be of benefit to one another."
To contact the author of this article, email engineering360editors@ihs.com