Duke University scientists have introduced a new electrically-conductive material that can be used in standard 3D printers show great potential for rapid design and prototyping of RFID devices. This advance overcomes a problem that has limited development of magnetic metamaterial devices.
Metamaterials are engineered to have properties not found in nature. These properties do not depend on the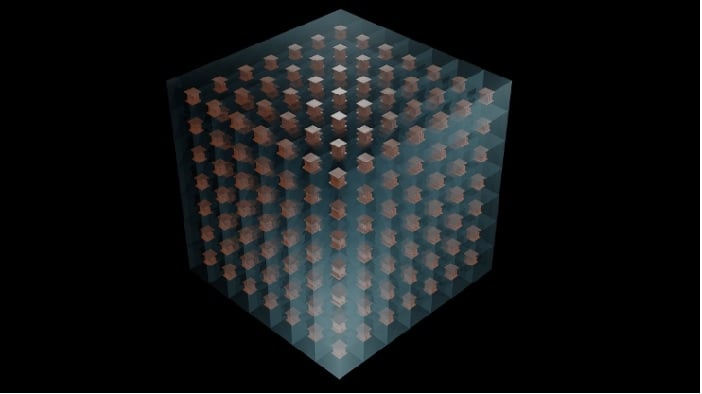 An illustration of how 3-D-printed metamaterial unit cells could be combined like Lego blocks to create structures that bend or focus microwave radiation more powerfully than any material found in nature. Credit: Duke University base materials — metals and/or plastics — that are used to build them but on the assemblages of elements, called units, of which a material is composed. A metamaterial can be designed to affect electromagnetic radiation on a very small scale, such as bending light backwards.
Testing prototypes of electromagnetic metamaterials has been limited by the lack of an electrically-conductive material that works in a standard 3D printer. Some large, expensive printers can print metals, but these are impractical for building metamaterial unit prototypes.
Researchers from Duke's chemistry department set to work to develop a suitable metal. "Our group is really good at making conductive materials," said Benjamin Wiley, an associate professor who has been exploring these materials for nearly a decade. "We saw this gap and realized there was a huge unexplored space to be filled and thought we had the experience and knowledge to give it a shot."
Wiley and Shengrong Ye, a postdoctoral researcher, created a material that they are commercializing under the brand name Electrifi by Multi3D LLC. Electrifi is 100 times more conductive than any other material currently available.
Using Electrifi in a standard 3D printer, the researchers produced one metamaterial cell in 20 minutes. Combining a series of cells results in a metamaterial sample that can then be tested for the electromagnetic properties material designers intended.
In the designs the research team printed, Electrifi interacted with radio waves almost as strongly as copper — 14 times better than 2D counterparts. Stacking units, each produced to interact in a specific way with electromagnetic radiation, like Lego® blocks allows researchers to design new devices. The electromagnetic waves affected are outside the visible spectrum, making the metamaterial suitable for use with radio waves and microwaves.
"We think this could change how the radio frequency industry prototypes new devices in the same way that 3-D printers changed plastic-based designs," said Wiley.