Wireless recharging already exists for power speakers, smartphones, tablets and even electric cars. But these platforms need their own wires and must be placed near the charging station in order for the charging process to begin.
A group of engineers from Duke University, the University of Washington and Intellectual Ventures' Invention Science Fund (ISF) are working on a way to build a system that would be the size of a flat-screen television but be capable of remotely charging any device within its line of sight.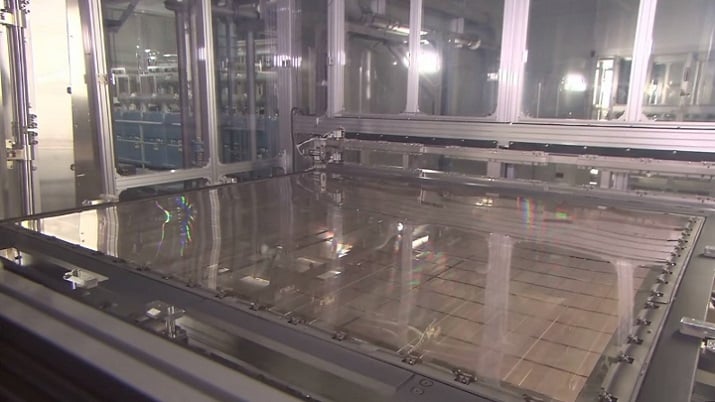 While this LCD is being manufactured for a television, a similar technology could be used to create a room-wide wireless power transfer system. Source: Duke University Typical charging systems use resonant magnetic near-field technology to transfer energy through a magnetic field produced by current flowing in a coil of wire. However this approach does not allow for power transfer over larger distances. The engineers' system operates at much higher microwave frequencies, allowing power transfer distance to be extended beyond the confines of a room.
In order to maintain a proper power transfer efficiency, the system operates in the Fresnel zone, a region of an electromagnetic field that can be focused, allowing power density to reach levels sufficient to charge many devices with high efficiency.
"Our proposed system would be able to automatically and continuously charge any device anywhere within a room, making dead batteries a thing of the past," says David Smith, professor and chair of the Department of Electrical and Computer Engineering at Duke.
How They Did It
The system created by the engineers relies on metamaterials, a synthetic material composed of many individual, engineered cells that together produce properties not found in nature. Antennas can then be built to gather electromagnetic energy and focus it, much like a beam of light.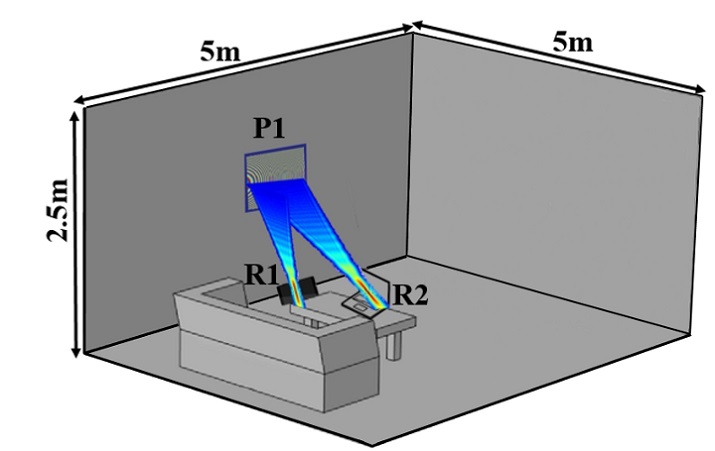 A representation of the in-home wireless power transfer scheme that could charge multiple devices throughout a room. Source: Duke University "Imagine you have an electromagnetic wave front moving through a flat surface made of thousands of tiny electrical cells," Smith says. "If you can tune each cell to manipulate the wave in a specific way, you can dictate exactly what the field looks like when it comes out on the other side."
Smith and his engineers first tackled this principle with what they claim is the world's first cloaking device that bends electromagnetic waves around an object held within. The group previously developed the metamaterials technology for satellite communications.
Engineers say they can manufacture the antennas at the same plants that produce LCD televisions. They believe they can create a flat metamaterial device, no bigger than a typical flat-screen TV, that could focus beams of microwave energy down to a spot about the size of a cell phone, within a distance of 10 meters. It could then be capable of powering more than one device at a time.
In order to make this system a reality, a powerful, low-cost electromagnetic energy source would need to be developed. And the system would have to automatically shut off if a person or a pet walked into the focused electromagnetic beam. But engineers believe the technology is there.
"All of these issues are possible to overcome—they aren't roadblocks," Smith says. "We actually came up with some nice analytical formulas for coverage areas and efficiencies that would be possible. I think building a system like this, which could be embedded in the ceiling and wirelessly charge everything in a room, is a very feasible scheme. Moreover, there are versions of the concept that can deliver larger power over much larger distances."