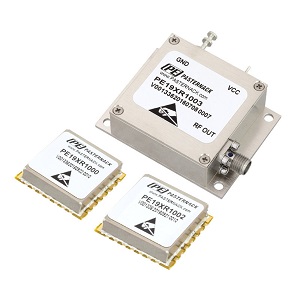 The free-running reference oscillators. Image credit: Pasternack
Pasternack has released six new free-running reference oscillators that generate highly stable and accurate output frequency response with low phase noise.
The oscillators work in devices such as phase locked loops, function generators, frequency synthesizers and receivers for communication, radar, navigation, surveillance and test and measurement applications.
The oscillators use a high-stability internal crystal reference as part of the phase-locked assembly with a buffered amplifier output stage for ruggedness. The devices provide the out frequency source with respect to temperature, stability, induced noise and overall efficiency.
The oscillators operate over a range of negative 30 degrees Celsius to 70 degrees Celsius and require a single positive DC voltage. They operate at 10 MHz, 50 MHz or 100 MHz with phase noise as low as negative 150 dBc/Hz at 10 KHz offset.