Use of conventional data recorders and sensors to collect unmanned aerial vehicle data is problematic, as these components add mass and volume to the craft. Ultra-small SLICE MICRO and NANO data recorders from California-based DTS are designed to embed directly into the test article, even small drones.
The modular NANO has a 26 mm x 31 mm footprint. Stand-alone systems include a microprocessor, excitation, full signal conditioning and sample up to 500,000 sps/channel.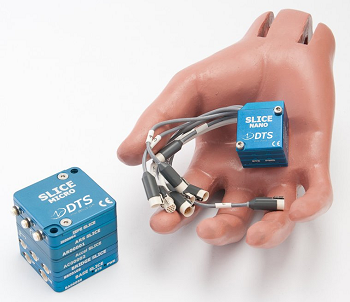 SLICE MACRO and NANO data recorders. Image credit: DTS
SLICE can record for hours or even days and direct-writes data to 16 GB flash memory. The device delivers precision shock and vibration data in low and high temperatures, high altitudes and low pressure environments (meets MIL-STD-810-E), and is 500 g shock rated with a 5,000 g option available.
SLICE supports a full range of external sensors, including accelerometers (piezoresistive and piezoelectric IEPE), strain gauges, load cells, as well as pressure, angular rate, voltage and temperature sensors. Integrated sensors are also available for an all-in-one solution.