SynapseWear is a wearable device and fashion collection that records your motion and environmental data to create visualizations and sonification.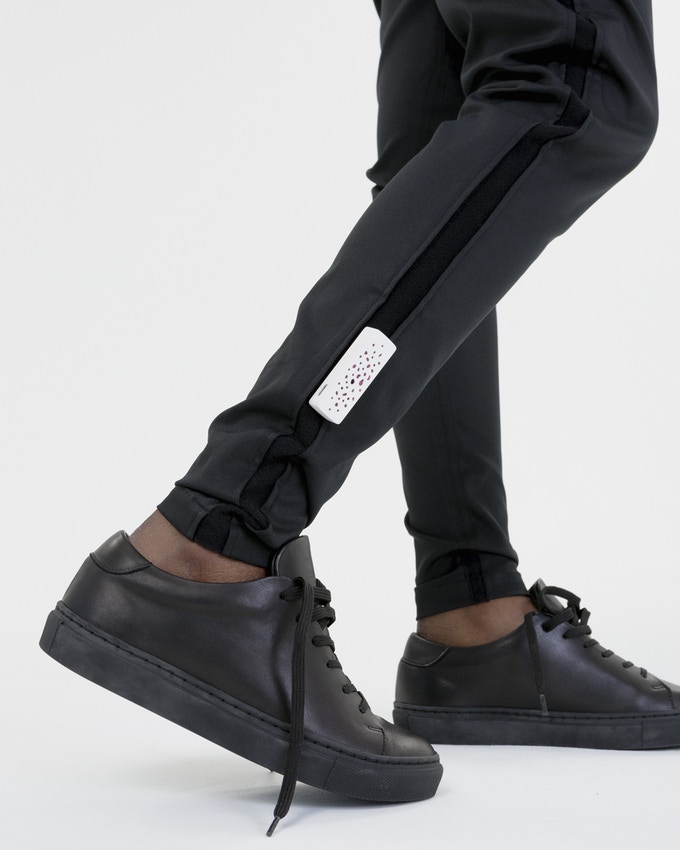 The synapseWear device (Kickstarter/synapseWear)
The synapseWear device includes six sensors and is small and light. The sensors capture the user's motion and environmental data that can be used as an air quality monitor or a way to enhance performance art. The sensors act like mnemonic recorders of the following sentient experiences: CO2, temperature, humidity, illumination, air pressure, environmental sound, magnetic field, movement and angle.
SynapseWear has two modes for recording data: performance mode and background mode. Both modes communicate with the user's mobile phone through Bluetooth. The synapseWear performance mode sends real-time data from the device to a PC via OSC at 10 data readings per second. The background mode captures and stores environment data for future use. SynapseWear's battery is a 230 mAh lithium ion polymer battery that lasts 7 hours in performance mode and more than 3 days in environment mode. It measures 60mm x 20mm x 14mm. It has 1 white LED light.
SynapseWear is designed to attach to a garment collection with a special fabric that has been integrated into seams. This allows the user to place the device wherever they want, from shoulders to their ankles. synapseWear comes with a clip so it can attach to garments that are not made with the special fabric.
The synapseWear garment has t-shirts and pants. The garments are electronics-free so if the garment wears out or rips the user can still use the synapseWear device on their normal clothing. The garments have special fabric strips integrated that allow users to place the device wherever they want.
The t-shirt fabric is 100 percent cotton and comes in black, white, lavender and lime-yellow. The pants are made out of 100 percent polyester and come in black, white and purple as well as slim, half and regular styles. The waist of the pants is elastic to ensure comfort. All the garments are made in Fukui, Japan.
The synapseWear app has two output modes: data visualization (graphics) and sonification (audio). Through the day the app visualizes physical data around the user in constantly shifting formations. These visualizations were inspired by crystals because they are constantly evolving in the wild. The crystal visualization evolves visually and sonically through daily use. The look and sound are determined by the environment around the user.
SynapseWear will have a pop-up shop in Brooklyn, NY from August 18th-20th 2017. The Kickstarter campaign has raised $3,028 of their $17,500 goal with 34 days left in the campaign. To learn more about this new smart clothing device, visit the synapseWear Kickstarter page