A capacitor with an innovative design withstands heat up to 300 degrees Celsius, considerably higher than the 125 degree limit of conventional electronics.
Removing heat from electronic products and components is often a challenge. Electricity creates heat. For very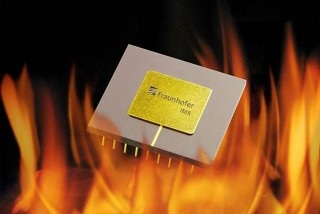 The capacitor withstands temperatures of up to 300 degrees Celsius. Credit: Fraunhofer IMS small components or devices, there are often not enough space to dissipate heat effectively. This can be particularly true for components operating in inherently hot environments.
A research team at the Fraunhofer Institute for Microelectronic Circuits and Systems IMS in Duisberg, Germany, undertook the challenge of building a capacitor that would overcome this problem. Using innovative materials and a 3D trick, the team, led by Dorothee Dietz, produced the 300-degree-tolerant capacitor.
The new design consists of two conductive plates that act as anode and cathode, separated by dielectric material. The 3D trick involves etching tiny holds in the plates, which increases their surface areas. The holes allow for thicker plates than usual, which allows the dielectric layer to be thicker. These design features both increase capacity and the passive component's ability to withstand heat.
The dielectric is produced using tantalum pentoxide, composed of the metal tantalum and oxygen and aluminum. This material—also known as a high-k material—stores more capacitance than silicon oxide, a more usual dielectric. The team also used a highly electrically conductive silicon and ruthenium. "With our material mix and design tricks, we can manufacture a capacitor that is incredibly tough and heat-tolerant without compromising performance," explains Dietz.
An additional advantage to Dietz's team's design is that it is made using the metal-oxide-semiconductor (MOS) process. The process makes one-atom-thick layers, allowing manufacturers to control thickness precisely and provide highly customized capacitors.
This method can also be incorporated into design and manufacture of other passive and active components, such as resistors, diodes and transistors.