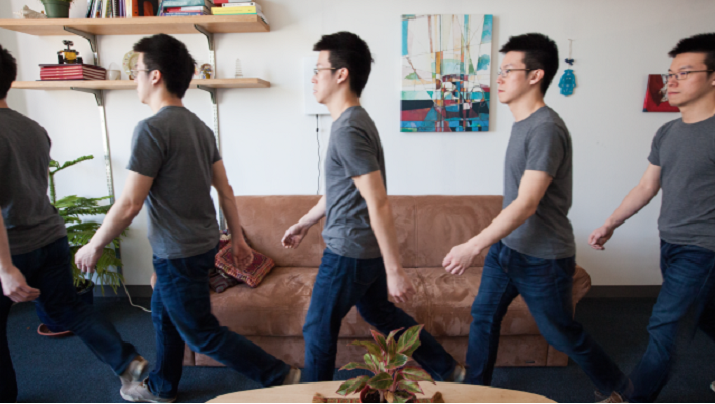 WiGait uses wireless signals to continuously measure a person's walking speed. Source: Jason Dorfman/CSAIL
A team of researchers led by Professor Dina Katabi at MIT's Computer Science and Artificial Intelligence Laboratory (CSAIL) has created a wireless device to measure walking speed – a vital sign that research suggests could predict health issues such as cognitive decline, proclivity for falling, and certain cardiac and pulmonary diseases.
Dubbed "WiGait," the device is about the size of a small painting, and can be placed on the wall of a person's house. From there, it emits a signal – emitting about one-hundredth the radiation of a cellphone – that reflects off of moving bodies to continuously and unobtrusively monitor a wide range of behaviors.

"By using in-home sensors, we can see trends in how walking speed changes over longer periods of time," says Ph.D. student Chen-Yu Hsu, lead author of the new paper describing the device. "This can provide insight into whether someone should adjust their health regimen, whether that's doing physical therapy or altering their medications." The paper will be presented in May at the Association for Computing Machinery Conference on Human Factors in Computing Systems.

Current measurements of walking speed, whether done by stopwatch, wearables such as FitBit or GPS-enabled smartphones, are limited in accuracy. WiGait, by contrast, can measure speed with a high level of granularity – and can even distinguish walking from other movements. The device is also more privacy-sensitive than cameras, showing the subject simply as a moving dot on a screen.

The information revealed by the device could be particularly relevant for the elderly, Katabi notes. A change in walking speed, for example, could indicate that a person has suffered an injury, or is at an increased risk of falling. It could even help the person determine whether they should move to a different environment, such as an assisted-living home.

"Many avoidable hospitalizations are related to issues like falls, congestive heart disease, or chronic obstructive pulmonary disease, which have all been shown to be correlated to gait speed," Katabi says. "Reducing the number of hospitalizations… could vastly improve health care costs."

Future applications include tracking disease progression by studying the walking impairment caused by Parkinson's, Alzheimer's or multiple sclerosis.