Additive manufacturing, or 3-D printing, is a technique that allows for the manufacturing of three-dimensional industrial parts via computer control. The technology has been in place for several decades, but it has only become a practical industrial method in the last two decades.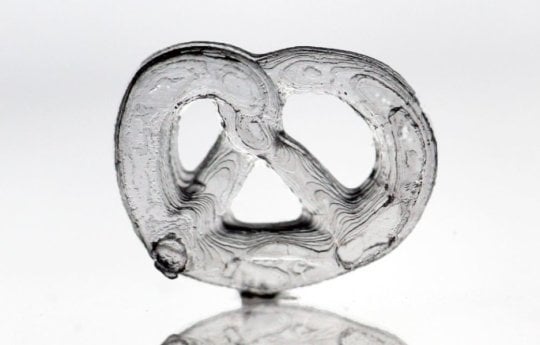 Complicated high-precision structures made of glass can be manufactured in a 3-D printing process developed at the Karlsruhe Institute of Technology (KIT). Source: KITUntil now, practical 3-D printing used polymers or metals. Glass, a versatile and useful material could not be used in 3-D printing. Now, researchers from the Karlsruhe Institute of Technology (KIT), a public research university in Germany, have developed a practical method that allows existing 3-D printers to use glass. Glass has an important role to play in intelligent manufacturing in the 21st century, due to its transparency, corrosion resistance and optical characteristics.
The researchers, led by Dr. Bastian E. Rapp, developed the method that uses a mixture of nanoparticles, quartz glass and a small amount of liquid polymer. The mixture is then is cured by light, producing a solid structure. During this process the remaining liquid material is washed out. "The shape initially resembles that of a pound cake; it is still unstable, and therefore the glass is sintered in a final step, i.e. heated so that the glass particles are fused," explains Rapp.
3-D printed structures can be used in many applications, including data transmission, fiber optics, biotechnology, computers and more. "The next plus one generation of computers will use light, which requires complicated processor structures; 3-D technology could be used, for instance, to make small, complex structures out of a large number of very small optical components of different orientations. For biological and medical technologies, very small analytical systems could be made out of miniaturized glass tubes. In addition, 3-D shaped microstructures of glass could be employed in a variety of optical areas, from eyeglasses meeting special requirements to lenses in laptop cameras," adds Rapp.
The result of the research was published in the magazine Nature.